so as some of you know, nathan and i snuck off for the weekend to portland to celebrate our anniversary. we suckered....er,
convinced
my mom to come down for the weekend to our house to watch the kiddos. we drove down there friday and arrived before we were able to check into our hotel, so we went to see "Wolfman". it was my suggestion, because i saw a preview and i *heart* both anthony hopkins and benecio del toro. nathan liked it too, and afterwards told me he thought that i made a mistake and meant to see a different movie because it is not my usual genre. then we walked around pioneer place, which is portland's hoity-toity downtown mall. it covers four city blocks and is connected by tunnels underground or bridges above, and has stores like
Coach
and
Juicy Couture
and
Tiffany's
, all of which i cannot afford to shop in....but wait! what is this?! a Sanrio store? a hello kitty lover's dream-come-true? a shrine to all things pink and cute and hello kitty-adorned? ahhh! i was lucky i didn't have katie with me. i spent about 20 minutes in there oooh-ing and aahh-ing though, before selecting an adorable pair of hello kitty earrings suitable for a souvenir for said daughter. we walked around some more and i sighted a freakishly tall man with a basketball shirt of some sort on. i convinced myself he must be a trailblazer and vowed to research later which one he was. by this time it was after 4 and we could check into our hotel, so we headed back there. along the way, we encountered many different street performers. portland must love their street performers, for as many of them as we saw. first, there was "bucket-drummer-man", who had a collection of different sized buckets and was drumming on them. then there was "silver-man", who was entirely spray-painted silver and acting as a mime: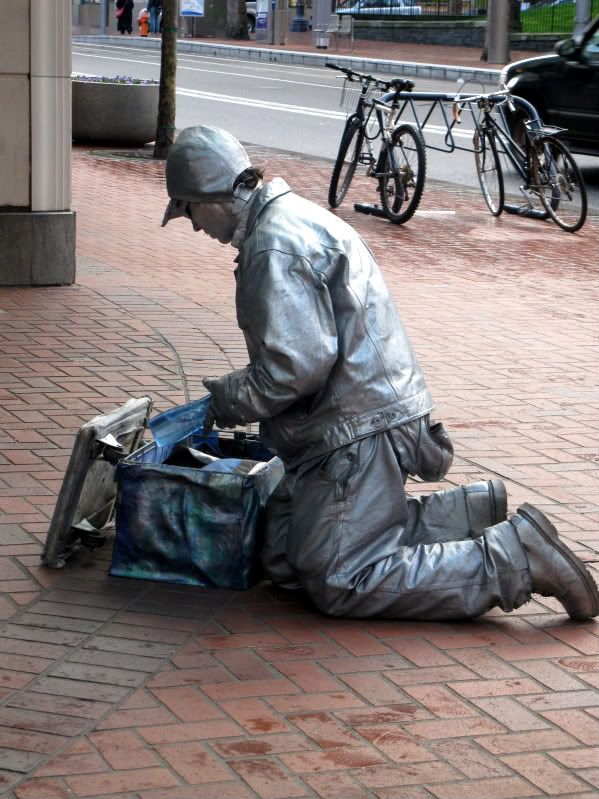 but my favorite was this folksy/blues-y quartet:
i especially liked the sign they had in their money bag: "ugly, broke, and stupid". LOL
my poor husband is so obliging. he hates taking pictures almost as much as he hates
being
in pictures. and here is me, on the walk back to the hotel: "ooh! ooh! look at the sea lion! i NEED a pic with the sea lion. and look! a beaver! go sit next to the beaver, nathan." LOL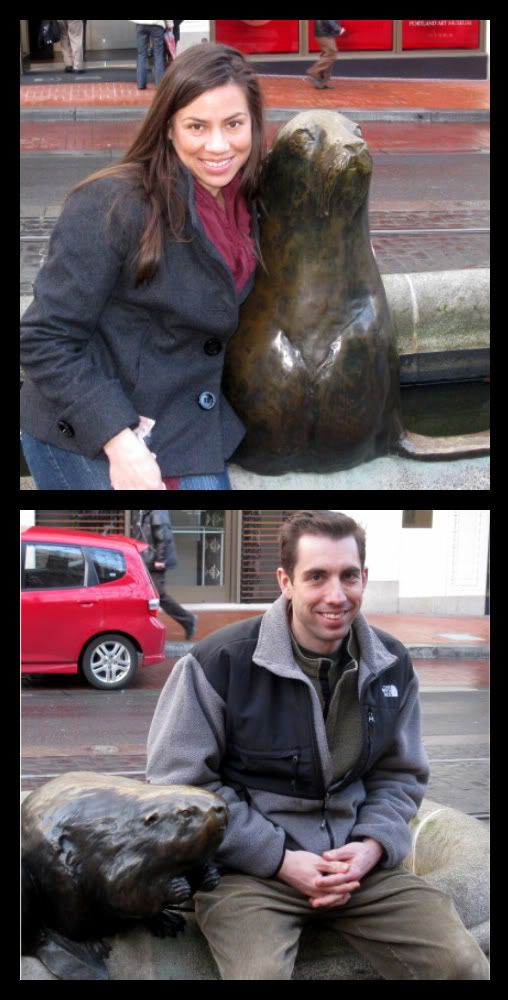 so we go to our hotel and check in. nathan took care of the hotel arrangements and we are staying in an embassy suites. that's what the government puts him up in whenever he goes somewhere for training, and they have managed to seduce him with their "manager's reception". that is where, from 5:30 to 7:30 every night, they have free all-you-can-drink beer and wine and appetizers. he thinks that this is the greatest idea EVER. so we take our stuff to the room, and then on the way down to the beer free-for-all i stop to check my e-mail at the internet kiosk in the lobby. google portland trailblazer roster to try to identify freakishly tall basketball dude, to no avail. go to check my facebook....and what-the-H-E-double-hockey-sticks is this?! "the site you are attempting to view has been blocked by the management." grrrr. bastards. oh well, on to the free wine. wheeee!
our suite: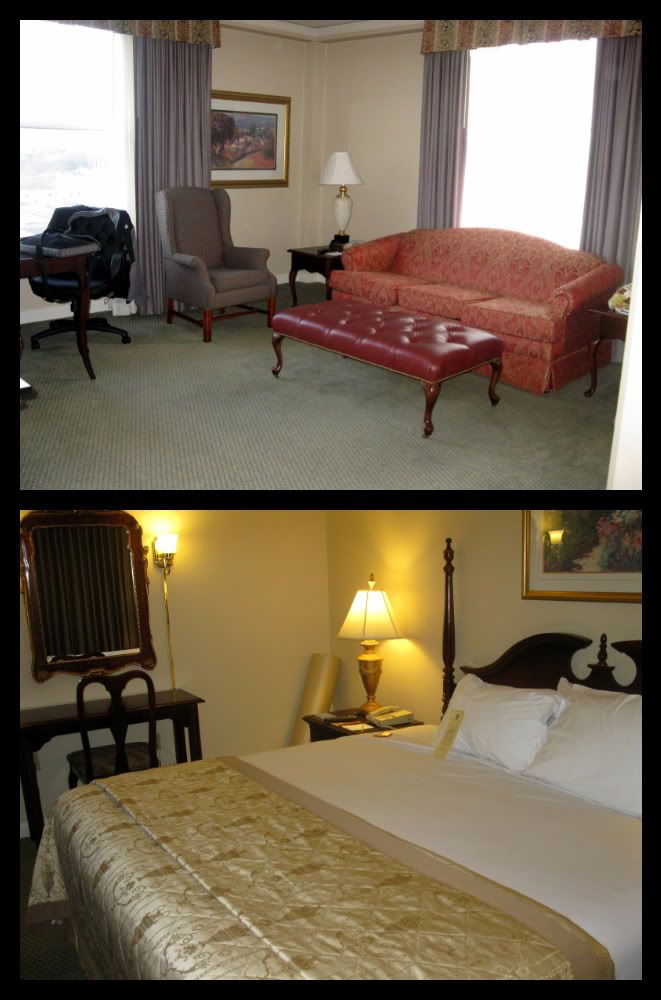 about a six-pack later, i finally convinced nathan we should go eat dinner, much to his dismay since free-beer-hour wasn't over. we asked the doorman where to go for italian food and he recommended
Mamma Mia's Trattoria
. it was DELISH. we walked back to the hotel after dinner...nathan wanted to go do some more exploring around town but i was BEAT. that was a definite role-reversal....me, showered and ready to crawl into bed at 9 pm and him bright-eyed and bushy-tailed, wanting to go out still. i won :) i attempted to check my facebook again in the room on the laptop but they wanted $10 a day for internet access....throw me a bone here, people! really. for the small fortune we are paying for our room you can't throw in some free wi-fi?! oh well. off to bed.
the next morning we head on over to Mt. Hood Meadows for some ski action. it was raining almost the entire way up....not a good sign.
just
before we hit the parking lot it actually turned to snow. whew. it really was an AWESOME day....the weather was not great, but it wasn't horrible, either....and i skied probably the best i ever have.
we didn't get back to the hotel til after 6 on saturday, and by that time i was starving because we hadn't stopped for lunch while we were skiing. we hurried and showered and headed out the door for some grub. on our way to dinner we saw a line of people wrapped around the side of a building with a blinking sign at the front. curiosity forced us to investigate. we nonchalantly meandered up towards the front of the line, where nathan poked around a bit, looked at the door and in the window, came back to me and announced "it's a donut shop." srsly?! no way. convinced that all these people cannot be standing in line waiting for a DONUT at 7 o'clock on a saturday night, i go up to investigate myself. sure enough, it DOES look to be a donut shop. taking charge of the situation, i say to a girl at the front of the line,"excuse me, but we are from out-of-town and saw the line and just wondered....are you all really in line for donuts?!" she laughed and said yes, that she was from out-of-town too, but she was here with her friend who lived here, and that
VooDoo Donuts
had the BEST donuts around, and you could get pretty much whatever you wanted on your donut. something about the way she said
whatever you wanted
made me envision donuts with marijuana sprinkled on top. the best part of voodoo donuts has to be their motto though: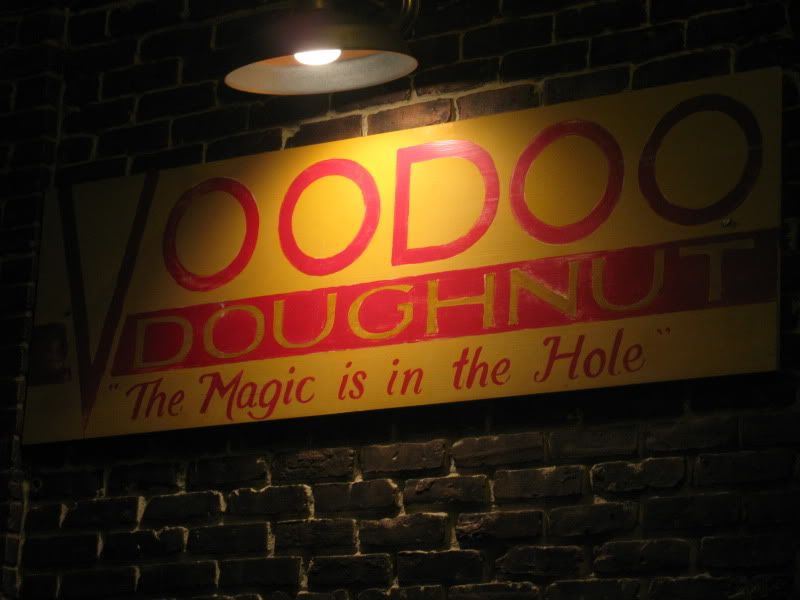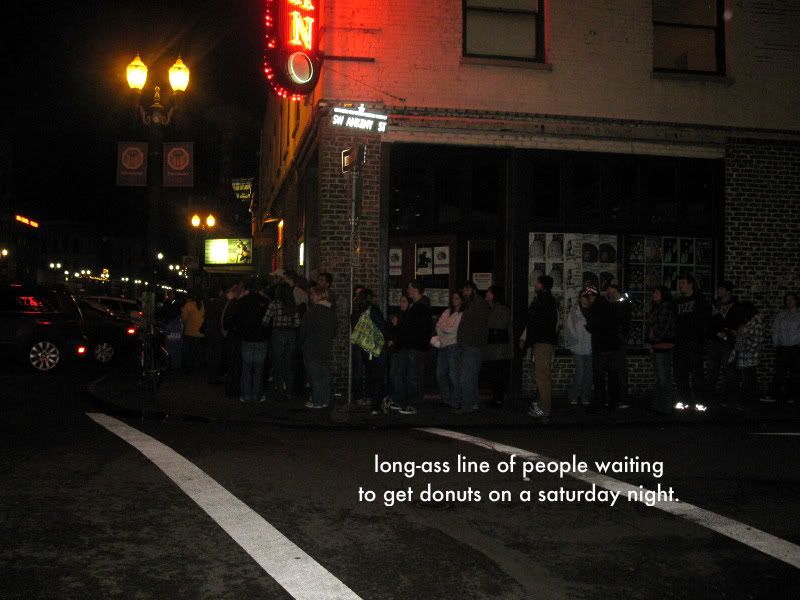 after that we went to dinner at the Thirsty Lion Pub. self-portrait from dinner: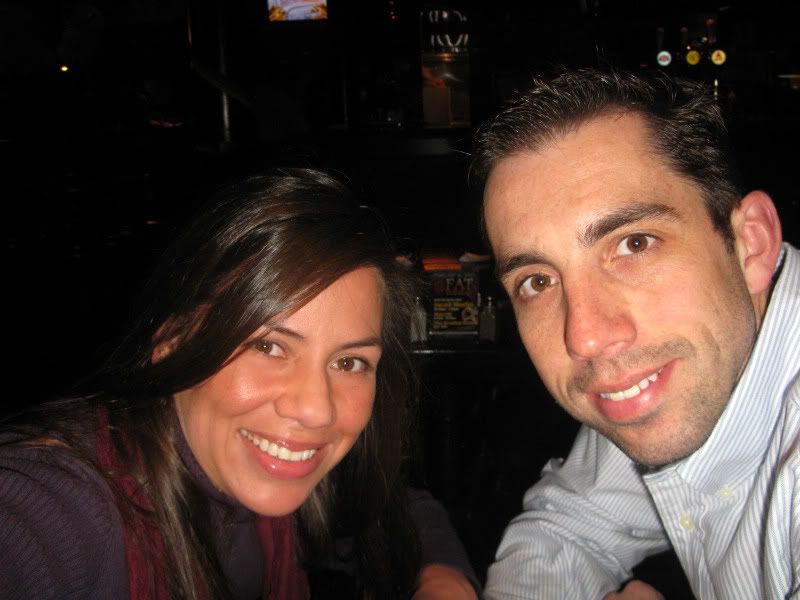 after dinner we went and just walked around the city and enjoyed the sights.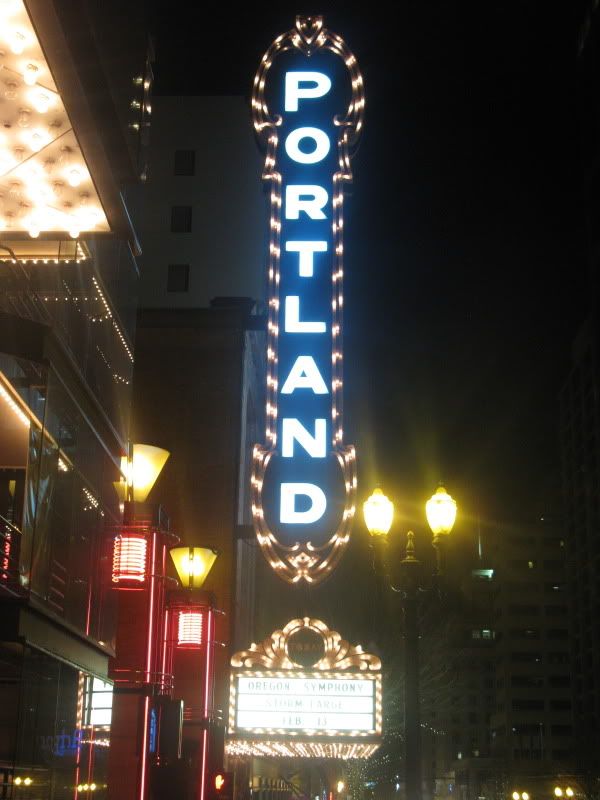 when we got back to our hotel they had someone playing the piano in the lobby. i found that exciting; nathan found it about as interesting as watching paint dry. he sat with me for about a half-hour on the couch listening though before i took pity on him and we went back to the room to get ready for bed.
sunday. valentine's day. we got up and ready and packed up our stuff. we checked out of our hotel and had some time to kill before we had to board for our cruise, so we just drove around the downtown area and looked at some stuff we hadn't seen walking around. then we parked and boarded for our brunch cruise aboard the Portland Spirit. a cruise + a fancy brunch + champagne + yet another piano player = tres romantique. it was a good time, and we saw some beautiful scenery and homes on the ride, but my fave part had to be when we spotted two sea lions, not too far from the ship. i was not fast enough whipping out my camera though, by the time i got it out they were gone.
aboard the Portland Spirit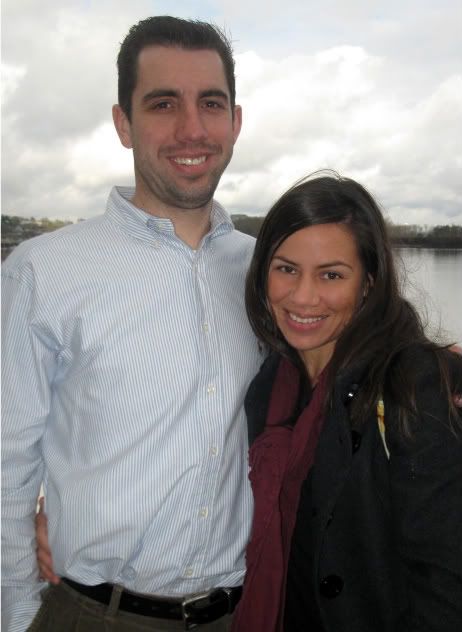 Portland skyline
after the cruise we headed back home. we made it about half-way home before the rain started pounding us, as if to say "welcome home to washington!" as the sun tried to poke through the clouds it produced this, the perfect end to our vacay: