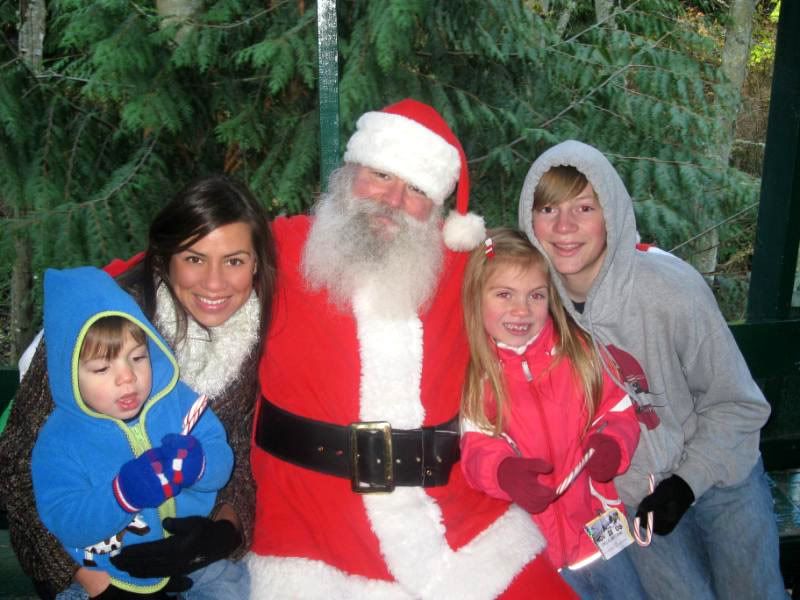 we had a nice family day today. we went down to point defiance to the
camp 6 logging museum
where they are running a santa train every weekend in december. i took austin and katie a few years ago with a bunch of girlfriends and their kids and it was a lot of fun. and one of the best parts? it's only a BUCK! we rode the train, which picks up santa, and then he walks around and visits everyone, poses for pics, gives out candy canes....he is a really great santa, looks AND personality-wise. the conductor told us that he is retired army and that he's been doing the santa train for the last 20 years now. another great part? no one cried this year! i thought for sure sam would start screaming bloody murder when he saw him, but santa was a smart guy and immediately gave sam a candy cane, which distracted him from the fact that santa was actually talking to him and sitting next to him. LOL afterwards you can go inside one of the little buildings there to warm up with some hot cocoa or spiced cider, since you just spent the last 45 minutes freezing your little tushie off on the open-air train. it was actually a beautiful day though, despite the cold....it was clear and sunshiney. i like the sunshine. a LOT. it makes me really happy. really.happy.
afterwards we went to lunch at the ram, one of our fave places to eat in tacoma. it is right on the water and so pretty, plus they are very family friendly. they didn't bat an eye when my kids were being obnoxious, not even when katie was rocking on the back two legs of her seat and fell over backwards. ugh. the waiter felt bad for us i think, he threw in some free ice cream for sam too when he brought katie's out. ha. then i forgot my to-go box and made nathan turn back around after we were a mile down the road. i WANTED the other half of my turkey havarti melt with avocado. i was sure they would have thrown it away already, but *luckily* the busser was JUST clearing our table when i came in, and the box was sitting there right where i left it. score!
then we came home and watched the Polar Express, which none of us had seen before. well, i think austin saw it once, but nobody else had. i really liked it. i cried at the end when he was ringing santa's bell....i am such a sap. right as the movie ended, nathan got up to let the dog out and noticed it was snowing. not a lot, but the snow that was coming down was big, fat flakes. it was so super pretty. and magical. and the perfect ending to our day.