so now that my hubby is tucked safely away in bed i can blog away about the gifts i made this year! usually i am totally lacking inspiration and end up getting some lame-o gift at the last minute, but i was feeling exceptionally crafty and inspired this year, so here is what we did: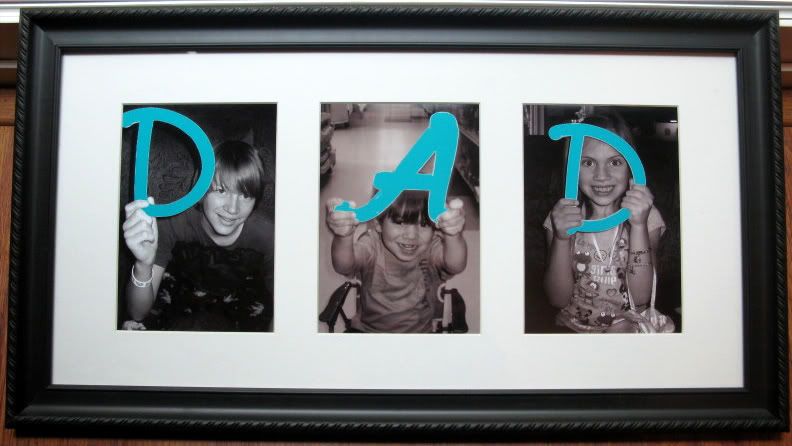 this idea is alllll over blogger-land, i must've seen a hundred different versions of it, and i loved the idea! of course, i didn't have the time or energy to color-coordinate my kids, so i just snapped shots of them in whatever they happened to be in and made them all B&W so it didn't matter, and then color-splashed the "DAD" letters. yeah, they're not perfect, and you can totally tell up close....but i still like it and i don't think nathan will care :) and it was totally budget-friendly, i got the frame on sale at joann's for $9.99 (SCORE!) and all 3 pics were under $5. i took a pic of sam with the "A" in the store so i wouldn't have to buy it (cause i am just super-thrifty like that LOL) and the "D" was $3.99, so the entire gift came out to under twenty buckaroos. AND i plan on returning the "D" LOL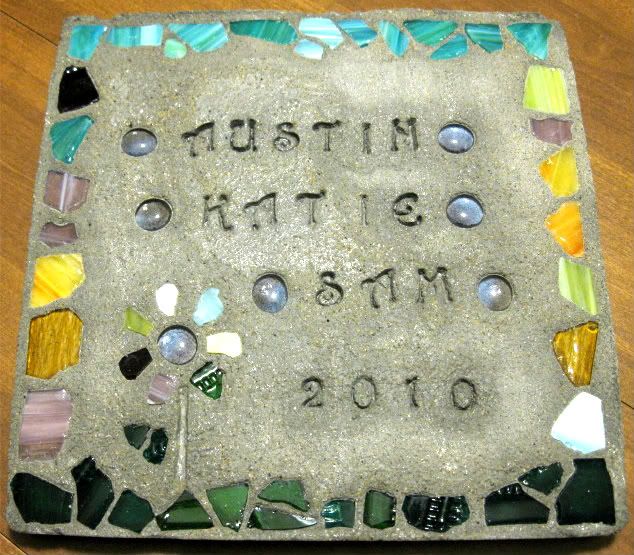 this is his other gift, a stepping stone that we made. katie helped me with a lot of the decorating, sam helped with a little (mostly the mixing of the cement) and i think it turned out cute. nathan loves being out in the yard so i figured this was a great gift that he can see whenever he is out there. it looks a little blotchy in the pic because i had just washed it and it was still a little damp.
thanks for looking!