this past weekend i went up to celebrate my b-day once again in beautiful victoria and to run the Goodlife Victoria Half Marathon. this year, though, i ditched the family at home and went up with my friend audi. (i love you, family, but sometimes a girl just needs a little getaway.) we caught the ferry in port angeles and 90 minutes later it spit us out on the beautiful inner harbour of victoria. we decided to walk to our hotel since it was pretty out. we walked....and walked.....and walked some more. 2+ miles later we finally arrived at our hotel, which would normally not be a big deal, but neither one of us were particularly light packers and hauling our suitcases (even WITH wheels) for that far was exhausting. after getting checked in and unpacked a little, we freshened up and then caught the bus downtown, where we picked up our race packets and then window shopped for a bit. then we went and grabbed a bite to eat and went on a ghost-walk tour. it was quite interesting and our guide was a fabulous story-teller. afterwards we returned to our hotel where we just vegged for the rest of the night.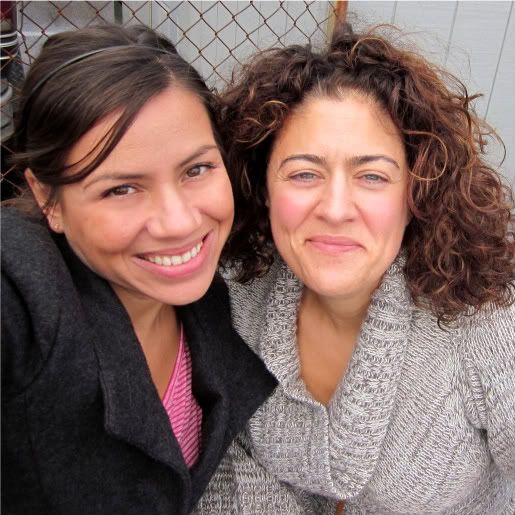 audi and i waiting at the ferry terminal.
saturday morning. i slept in til 8-something, poor audi, being the light sleeper that she is, had been awake since 6:45, courtesy of the noisy refrigerator and the family next door with the crying baby. blech. after we got ready, we decided to take the trail that we had discovered that went right by our hotel all the way to downtown. first we had hoped to grab a coffee, but apparently all the people by our hotel only drink coffee monday-friday, cause EVERYWHERE was closed on the weekend. we passed some women who had coffee cups and some yummy-looking pastries and audi asked them if perhaps there was a coffee shop around? yes, they said, there was a FANTASTIC coffee shop just down a bit. so we stopped into Cafe Fantastico and had mochas and croissants. after arriving downtown, we walked around and shopped for several hours. ahh, i *almost* forgot what it was like to leisurely shop, uninterrupted, and without feeling guilty that my husband was bored out of his mind while trying to occupy the kids outside of the store.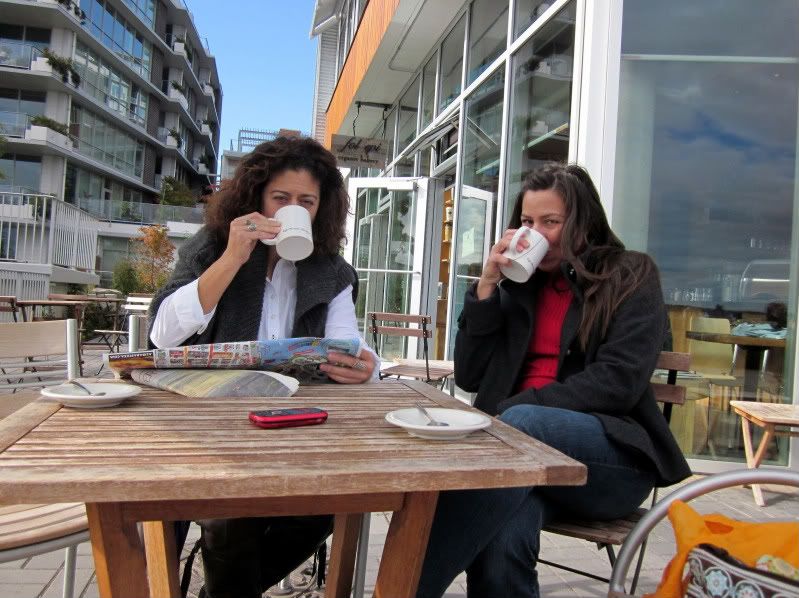 enjoying a morning cup of coffee.
sightseeing in downtown victoria....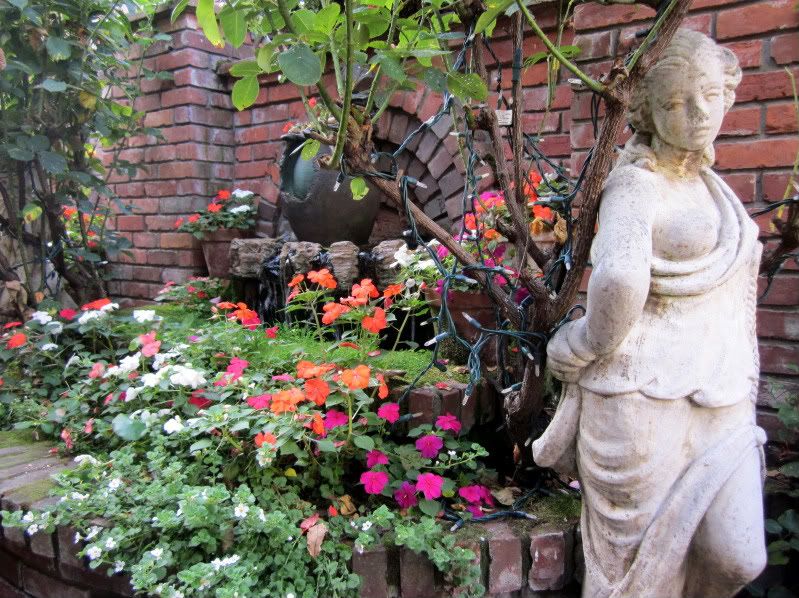 outside on the patio of a little cafe where we had the MOST.AMAZING. chocolate mousse cheesecake-sort-of-concoction.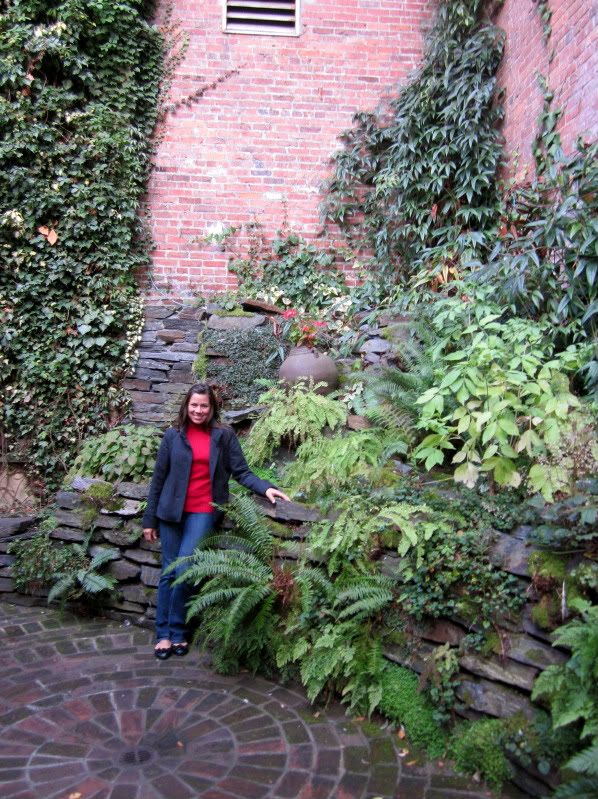 this was down at the end of an alley....even their ALLIES are pretty!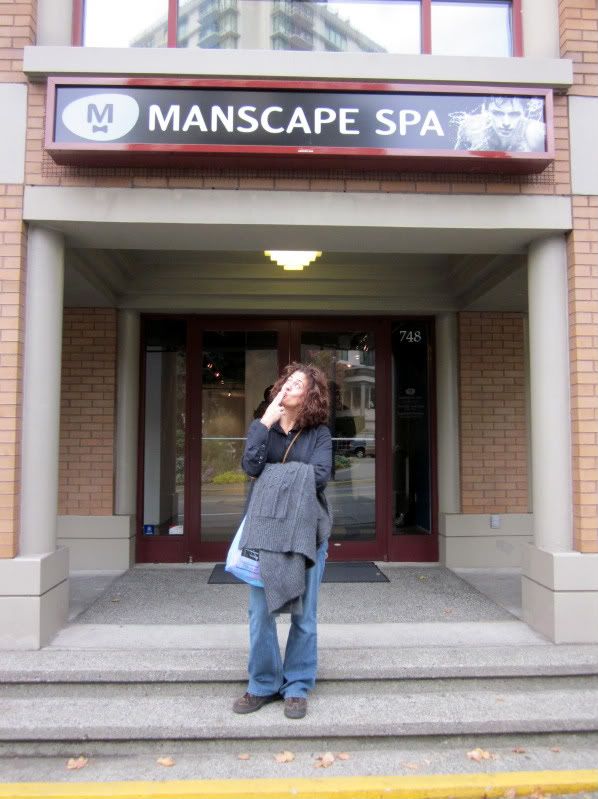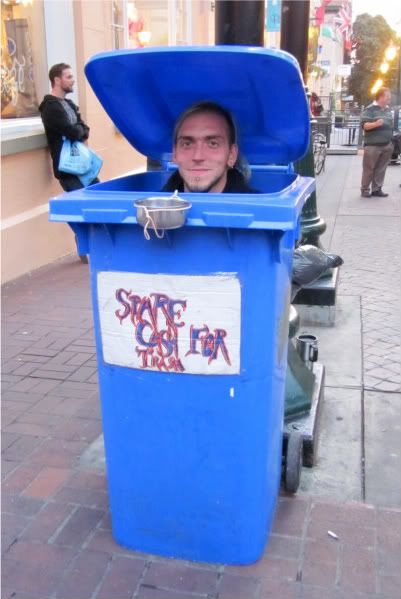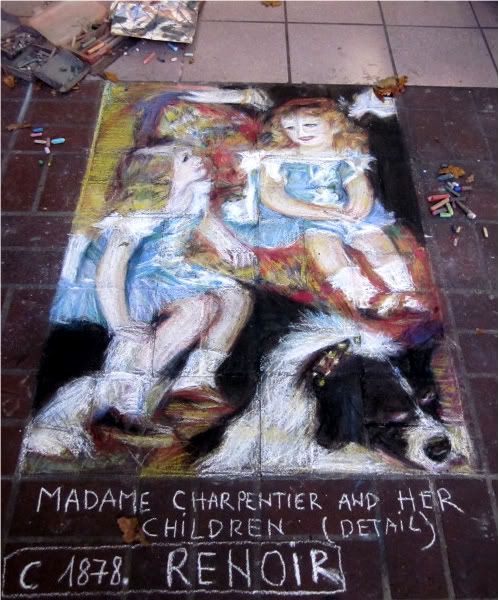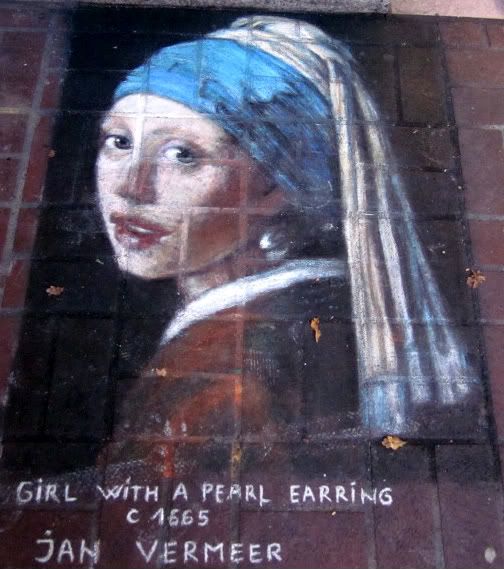 i thought this sidewalk art was just incredible.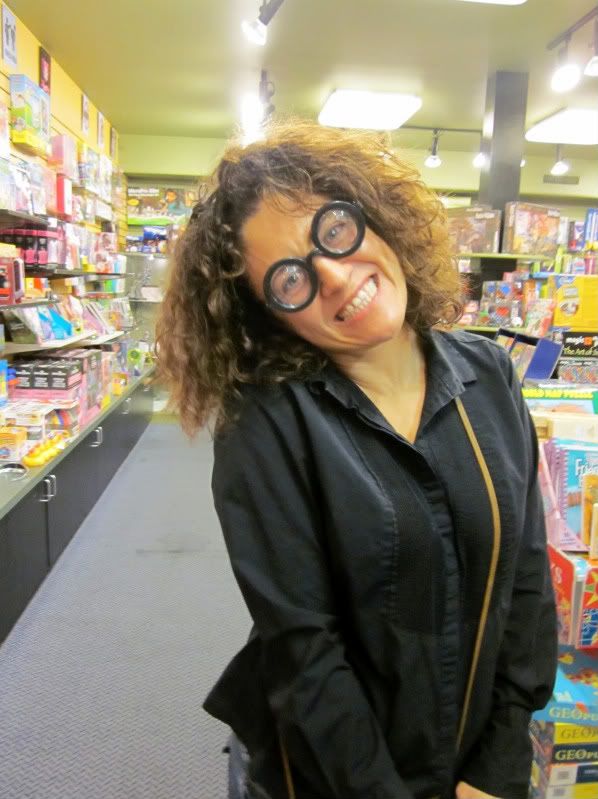 THIS is why i love her :D
chinatown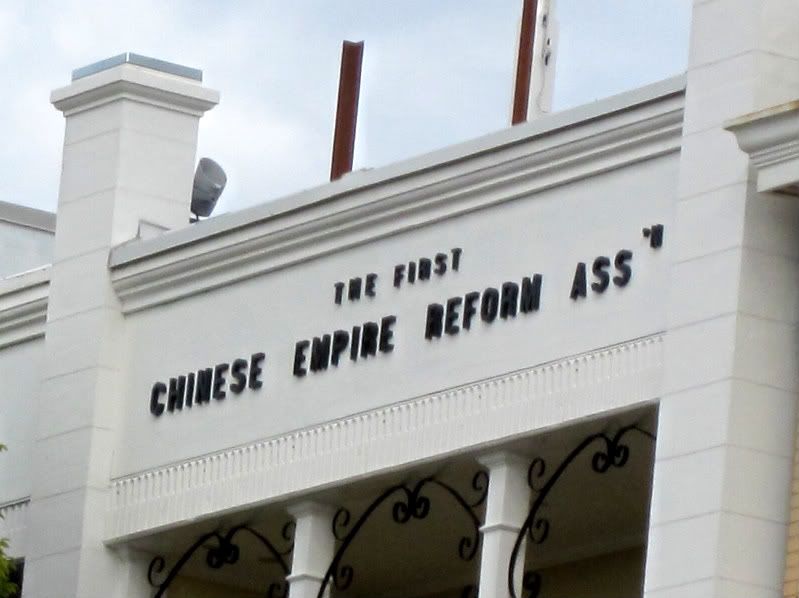 this just tickled my funnybone.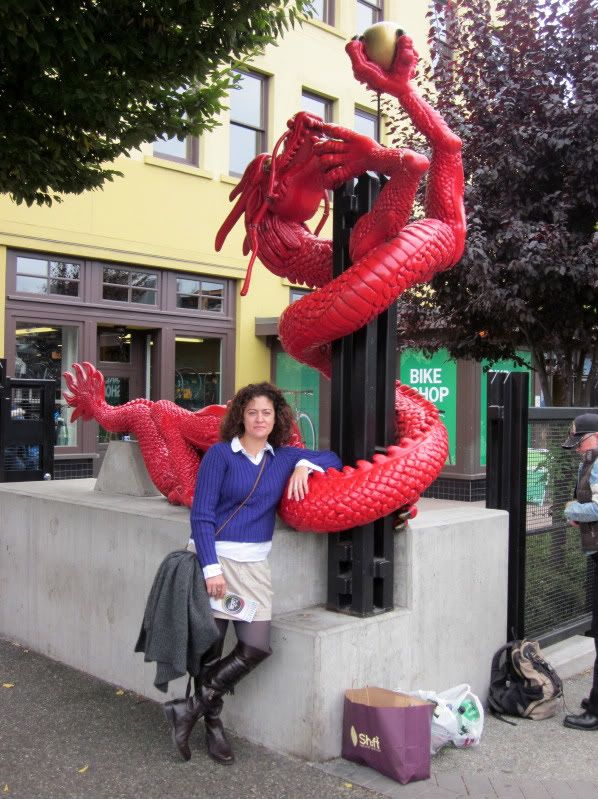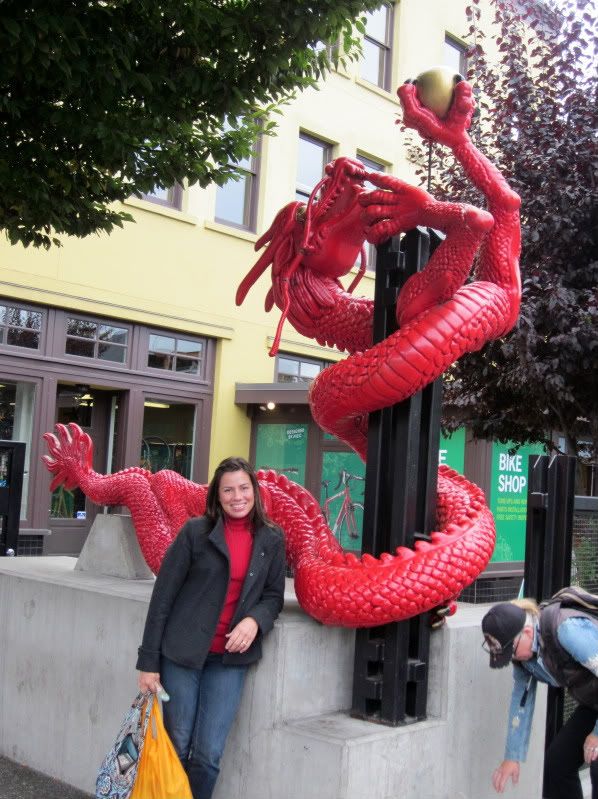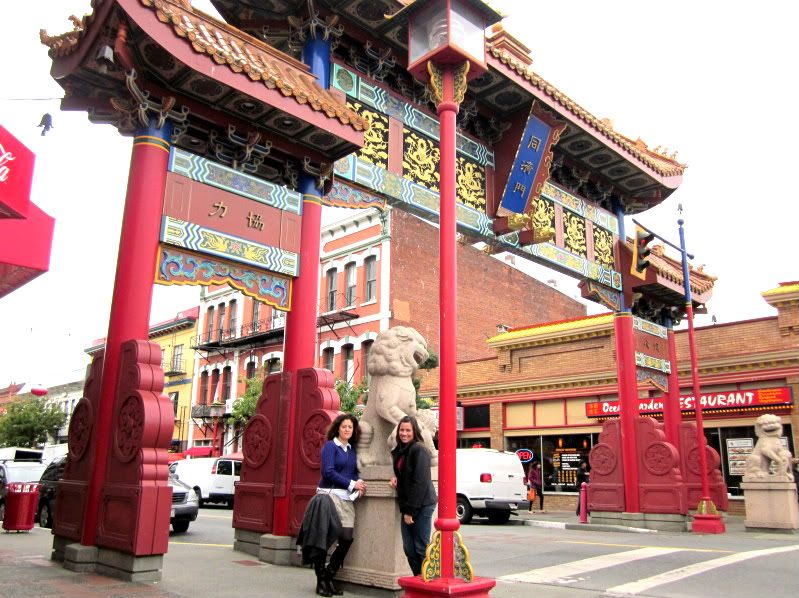 for dinner, we caught a water taxi over to spinnakers where we met our friend ruby and her husband ed. we had a lovely dinner with fabulous company. we then parted ways, and audi and i did something monumentally stupid; we decided to walk back to our hotel on the same trail that we had taken that morning. what we both failed to realize was a) how dark it was out, and that the trail was not lit and b) how deserted the trail was at night. we armed ourselves with pens while audi schooled me on the best places to gouge if attacked. thankfully, i ended up not needing that information and we arrived back at our hotel safe and relieved, where we turned in for the night.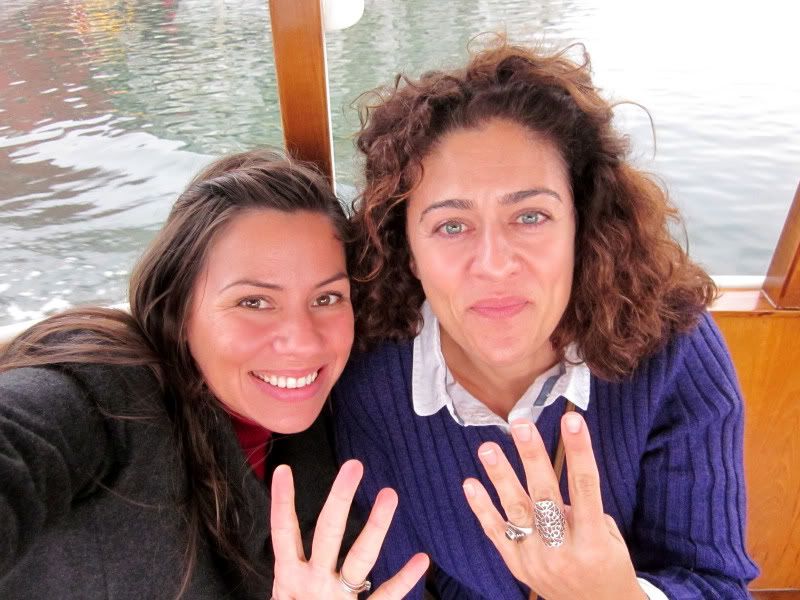 on the water taxi. this is the number of taxis that drove by before one *finally* picked us up.
sunday morning. race day. we got ready, grabbed a bagel and headed out to catch the bus. look at the schedule and see the first bus on sunday morning doesn't stop there til 7:48. FRICK!! that is not going to work for us since the race starts at 7:30. we start to walk back to the hotel to call a cab when we run into a couple other people with bibs on. they say they're taking a cab and we are welcome to share it with them. whew. we get there, find ruby and head to the start line after a porta-potty stop.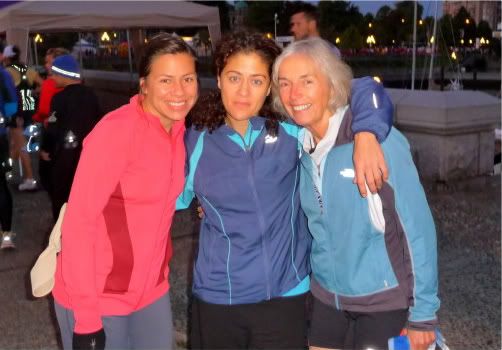 pre-race.
the race itself was surprisingly not that bad for me, considering my utter lack of preparation. and when i say that, i am NOT even kidding. i think i maybe ran, say, 3 times in the month before the race? with the longest distance being about 4 miles or so. i just didn't have time to train properly with the extra cycling classes i've been subbing, so i went in with zero expectations, except to have fun. i realized around mile 5 that i had to pee, but refused to stop for such a minor inconvenience. around mile 7 i started to run out of fuel, and decided to try and gag down a gu at the next aid station. managed to get about half of it down (the vanilla actually wasn't half bad) and it didn't take long til i was feeling a little more energized again. then, around mile 9 or 10 (just when i needed a lil' pick-me-up!) there was a young guy in front of me, probably late teens, who was yelling out encouragement to the sidelines. "good job, man-with-baby! good job, dog-walker! good job, aid-station-volunteers! good job, kid-with-sign!" and he would give them a thumbs-up. i could not help but laugh, it was so comical. at one point i started to get all hopeful-like, thinking that *maybe* i could pull this off in under 2, but as it turns out, i finished at 2:02:25. almost 10 minutes from my PR, and just over a minute from last year's time, but a time i still felt pretty good with. my running mates were right behind me, with audi coming in at 2:03:17 and ruby coming in at 2:03:41 (third in her age group!)
then we hustled back to the hotel so we would have time to shower and clean up before check-out. the bus driver took one look at us, sweaty and disheveled, with our medals still on, and told us to put away our money, the ride was free and congrats on the run :) after taking the best-feeling shower of my LIFE, i got packed and we went to check out. hauled our stuff onto the bus for one last trip into downtown, where we attempted to shop whilst dragging our luggage behind us. eventually we gave up and decided to go have lunch at a place we'd seen and had wanted to try, called the "flying otter grill". it was right on the water and it shared a building with the seaplane terminal, so we ate while we looked out and could see the seaplanes coming and going. then we meandered on over to the ferry terminal to wait for the boat.
the view from the flying otter.
audi at lunch. i thought she looked like a cute french girl! :)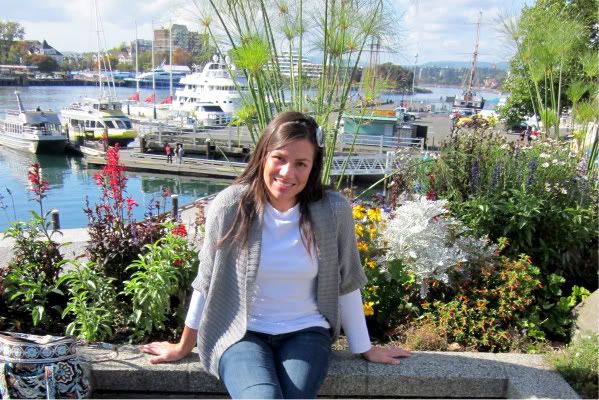 across from the empress on our way to the ferry.
i fell asleep on the way back home at one point, and awoke to a crowd of people talking and pointing over the railing outside. audi and i hustled out there to investigate, and there was a pod of orcas breaching. the last ones i saw were a mother and baby together, one big fin and one little right next to it :) it was the PERFECT ending to our trip.
back in the states again, audi dropped me off at the olympic peninsula visitor's center where nathan and the kids retrieved me. we then went to my mom's, where we had dinner and a relaxing evening. on monday, we lazed around all morning and then went into town and browsed around the shops in the afternoon. we ate an early dinner at "el serape" mexican cantina on water street (which i wouldn't necessarily recommend, their food was sub-par) and then went back to my mom's for cake and presents. it was a long, fun, exciting, tiring, happy, wonderful weekend! thanks to everyone who helped to make it so memorable!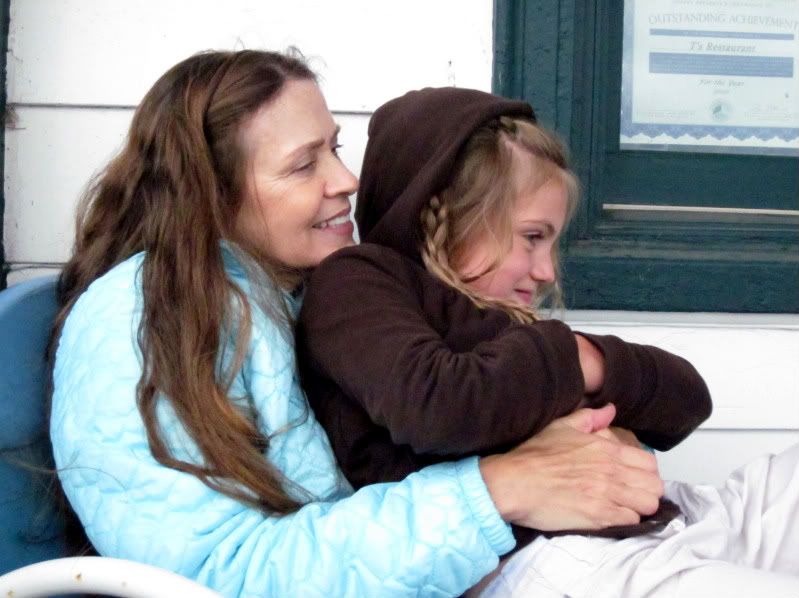 love this pic of my mom and katie.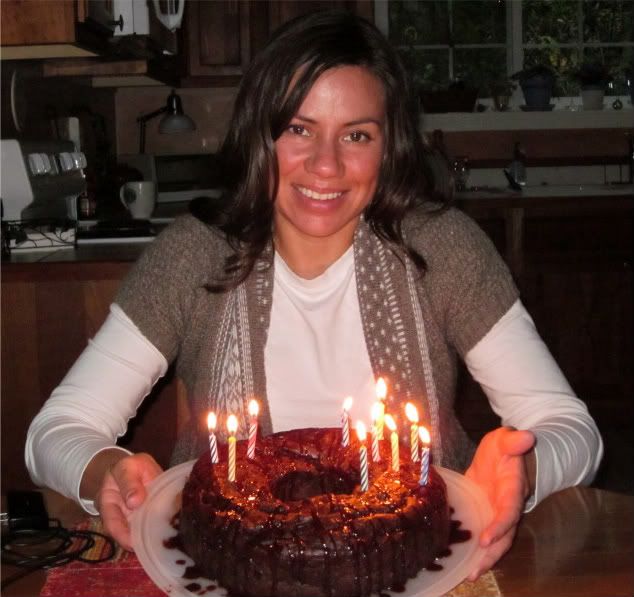 getting ready to make a wish.
thanks for looking!