this past weekend i celebrated my thirty-something-ish birthday with a trip up to Victoria for the Goodlife Fitness Victoria half-marathon. accompanying me were my better half and kidlets, my mom, and several friends who were also running the race. we ferried over on friday afternoon, and after checking into our hotel we ventured over to the conference center to pick up my race packet. a word of advice: when you arrive as SOON as they open on the first day, with almost 14,000 people registered.....be prepared to wait awhile. the line was crazy long and wrapped around the corner and down the block. it did move quite fast though to our surprise. after we obtained said race packet, we wandered around a few shops downtown before we met up with audi and dee for dinner at Milestones. it had a great atmosphere, fab views (it's located right on Victoria's inner harbour) and good food. AND i was surprised with a sparkler-topped ice cream after dinner and a rousing chorus of happy birthday. yes, i know it wasn't my ACTUAL birthday but my husband said that i deserved a whole weekend and thus declared it "birthday weekend" :) the only damper being when sam somehow managed to knock over my almost-full bellini, breaking the glass in the process and sending my deliciously slushy drink all over me. luckily the napkin in my lap caught most of it, and the waiter very graciously brought me a new one. whew. crisis averted.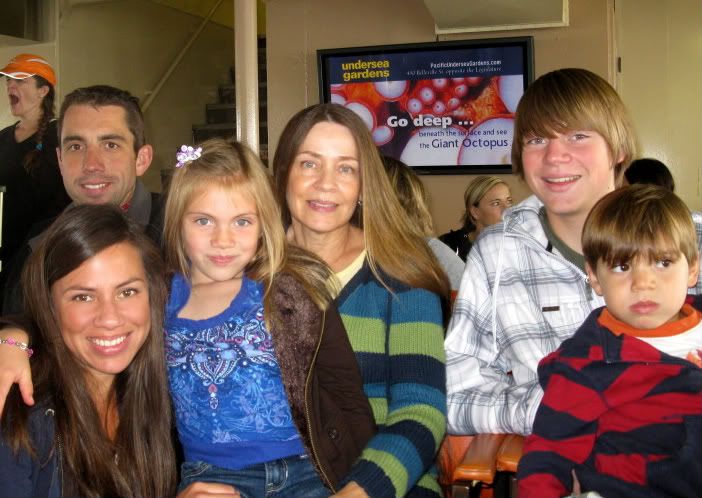 on the ferry to victoria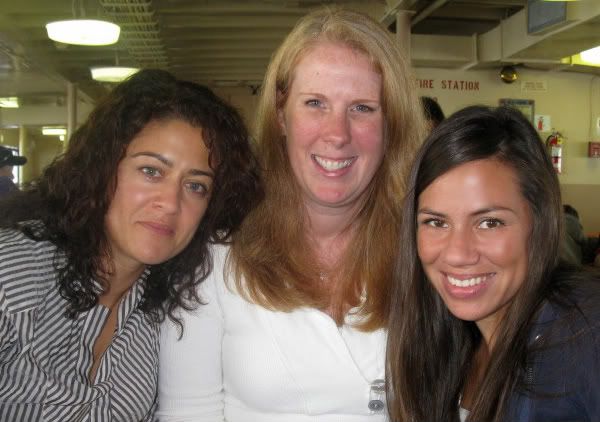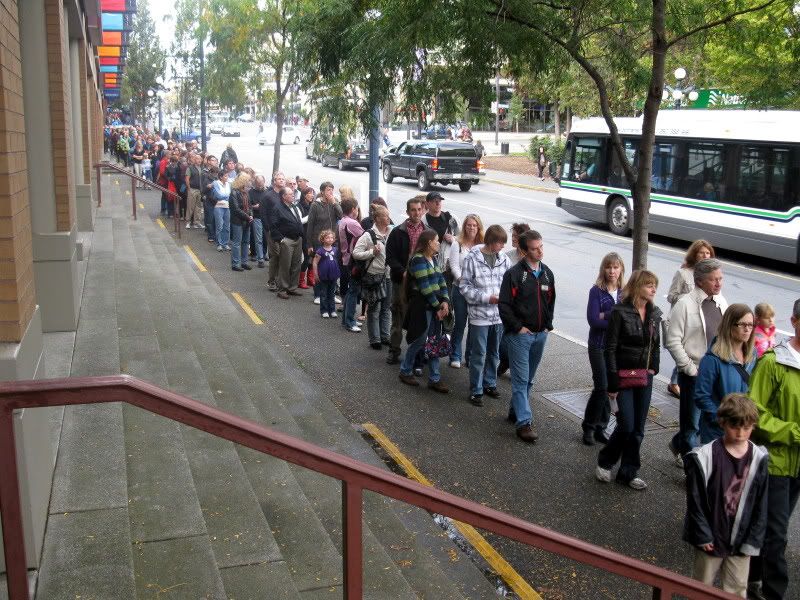 crazy-ass long line to get race packet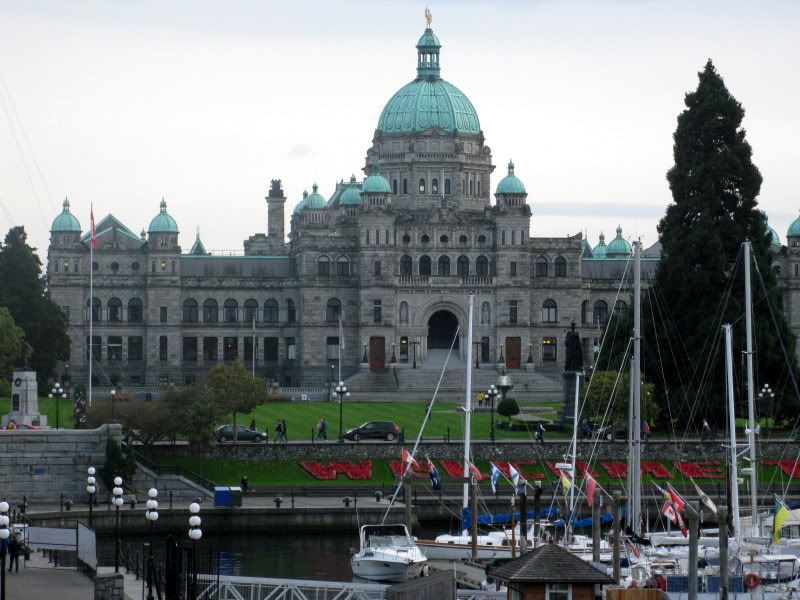 parliament building during the day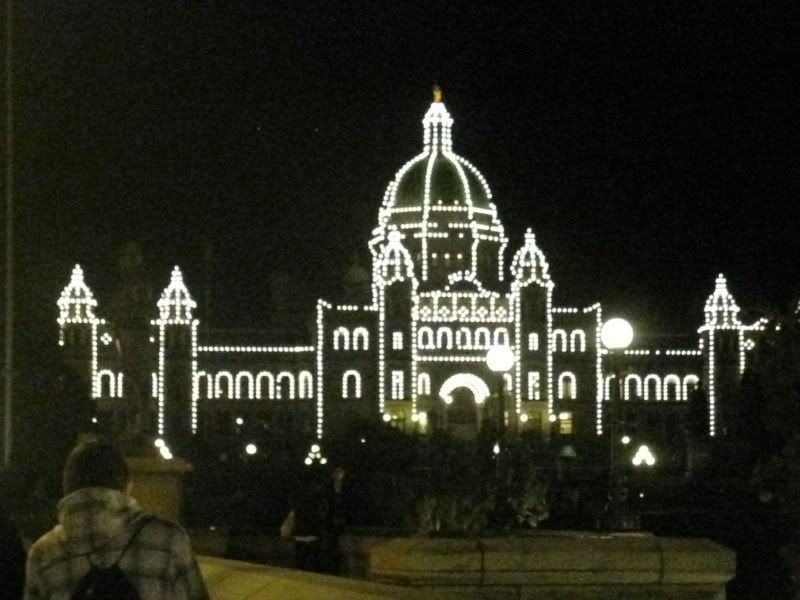 parliament at night.
after dinner we parted ways and went back to our hotel so the kiddos could go swimming. our hotel was pretty nice, but the pool was definitely NOT designed with kids in mind. there was absolutely no shallow part, you walked down the stairs and were immediately in 5 ft. deep water. or there was the hot tub, which was so hot they could only tolerate it for a few minutes at a time. next time i will defintely stay somewhere with a more kid-friendly pool, as i'm fairly certain this is their absolute favorite part of any trip....swimming in the hotel pool. ha.
saturday morning we drove up to Butchart gardens. one of the big bonuses of bringing our own vehicle, as i've heard the tour buses charge an arm and a leg to take you up there. the gardens were *gorgeous*--unfortunately i don't have more pics due to what i will hereafter refer to as the great camera debacle of two-thousand and ten. in a ever-so-slight miscalculation as i handed my mother back her camera, i let go a millisecond before she grabbed it and in slow motion i saw it plummeting to the ground. i thought it might make it for a minute--nathan and i both tried resuscitating it, but to no avail. it was gone. so i sacrificed my camera to her for the rest of the day.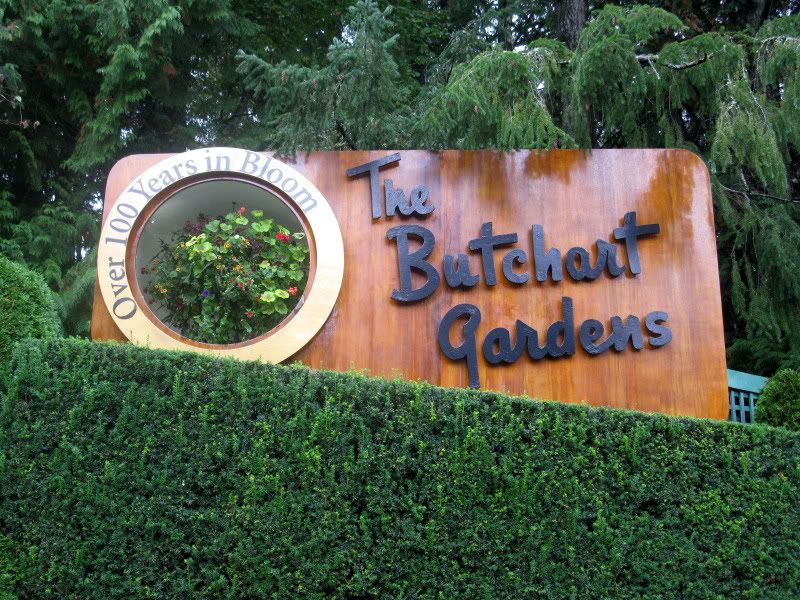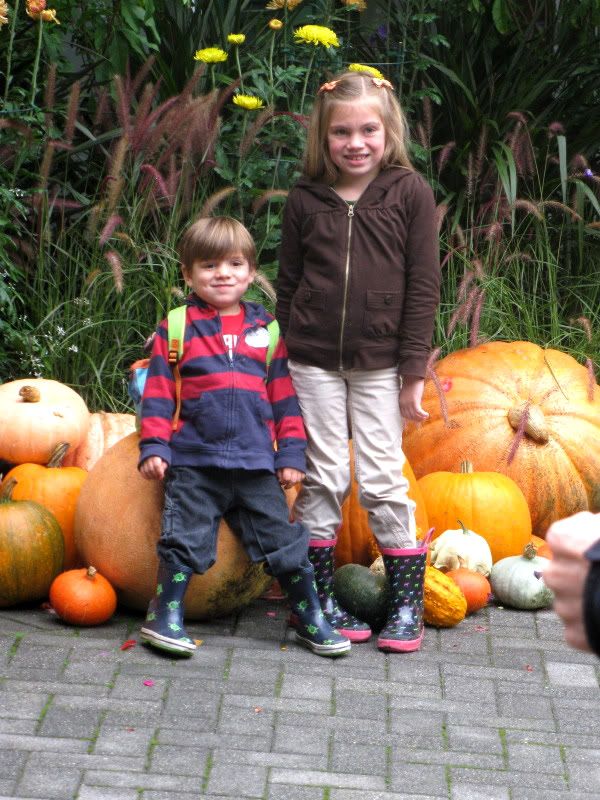 katie and sam, butchart gardens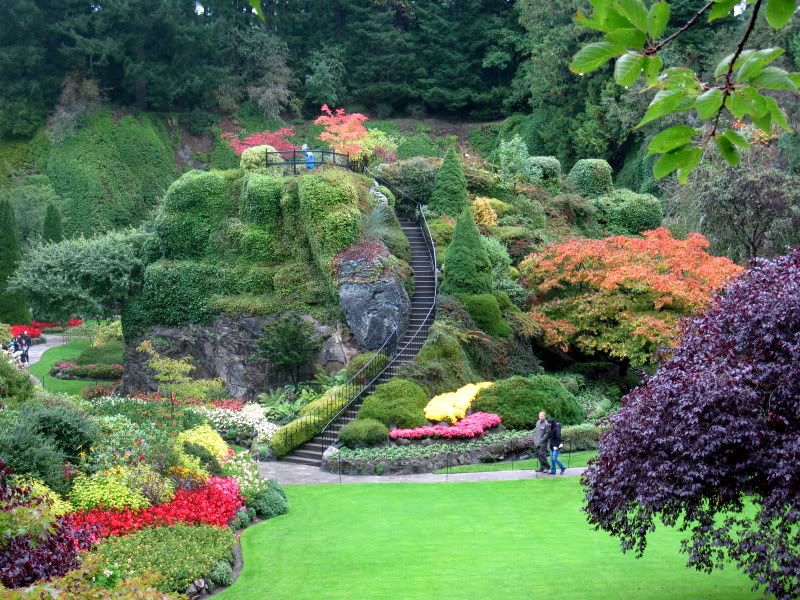 probably my favorite part of the gardens, the "sunken garden"
we made it through most of the morning without rain, and then it started coming down a little heavier. the kids were rapidly starting to melt down as well so we all piled back into the truck for a little drive (see: NAPTIME for kiddos). we drove over to a little town on the eastern side of the peninsula called "sidney by the sea", it was adorable and had the kids not been sleeping and the sky not been raining we totally would've gotten out and checked out some of the neat little shops. maybe next time.
by the time we got back to victoria it was time to meet up with everyone for dinner. if you have ever tried to find somewhere to eat for a party of 10 people with an extra 14,000 people in town for a race AND on a national holiday (it was canada's thanksgiving weekend), let me tell you folks, it's not pretty. everywhere was either turning us away completely or telling us it would be hours before they could seat us. i will absolutely know to make reservations well in advance next year. my friend ruby finally suggested the restaurant inside the hotel they were staying at, so we went there. no wait? AWESOME. we pushed a bunch of tables together to accommodate all of us and finally ate around 7:30-ish. after dinner we went back to the hotel and went down to the pool for just a bit, then turned in early.
sunday morning was cold and overcast. i woke up and prayed the clouds would hold out and not dump rain on us, at least not til *after* the run. i had the familiar knots in my stomach that i get before EVERY race, no matter how many times i tell myself that i am just gonna do the best i can and that is all i can do....i still get nervous every.time. met up with audi, dee, and ruby and did our thing. the race went amazingly well, the skies held out and did not rain on us, and it was actually really great running weather. the course was really pretty, and i was pleasantly surprised by the lack of hills....it was a relatively flat course. in spite of my severe lack of preparation, i finished in 2:01:17. i have to credit it to heather's cycling class, as i believe it really helped with my endurance.
in the darkness of pre-race. note my awesome new jacket from the race, a b-day gift from ruby, dee, audi, rhonda and heather!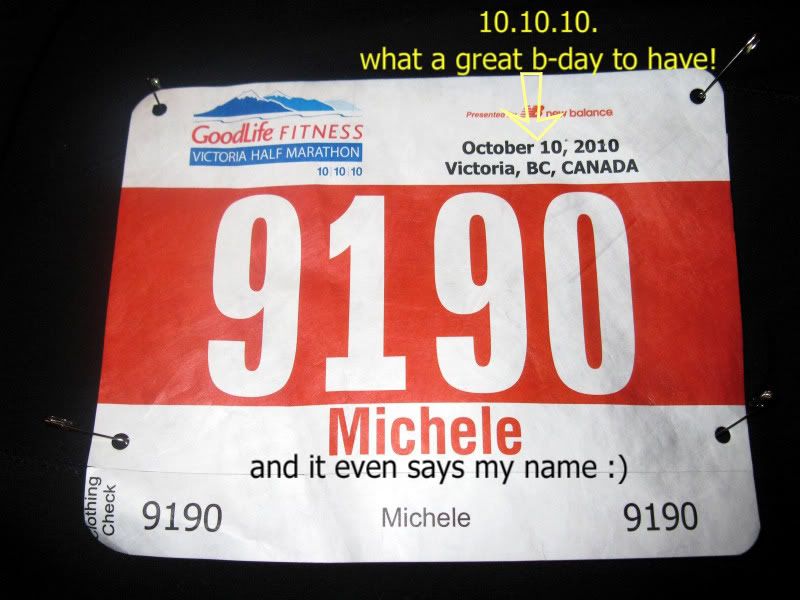 my most awesome bib ever :)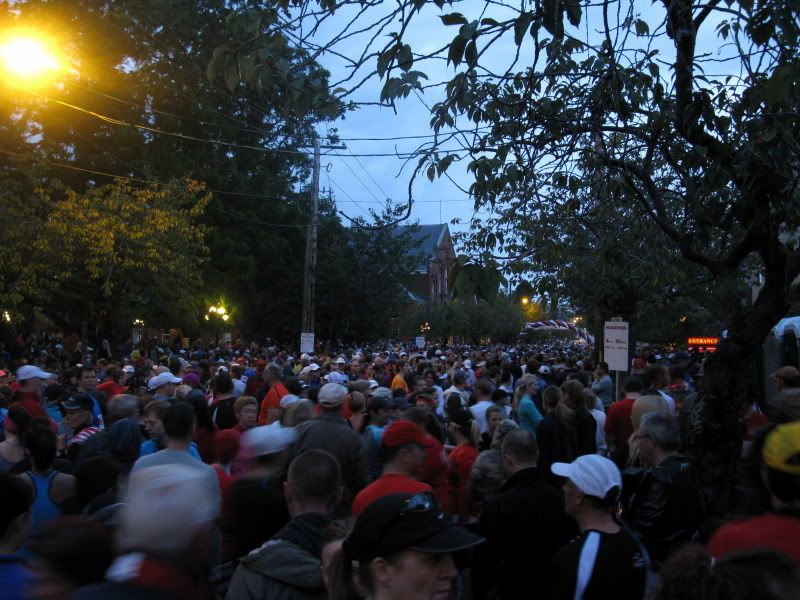 a sea of runners
audi and i post-race. we keep such great pace together!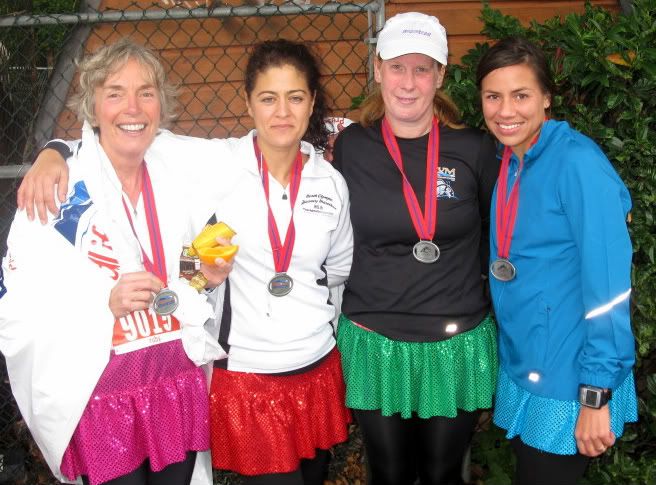 team sparkle with our finisher's medals!
after going back to the hotel to shower off the stank, the fam headed over to the
Victoria Bug Zoo
to check it out. minus my mom who opted out, what a partypooper :) a huge thanks to audi, who suggested it, as we all thoroughly enjoyed it. it was small, but had TONS of really cool bugs, which they tell you all about and then they take most of them out so you can hold them.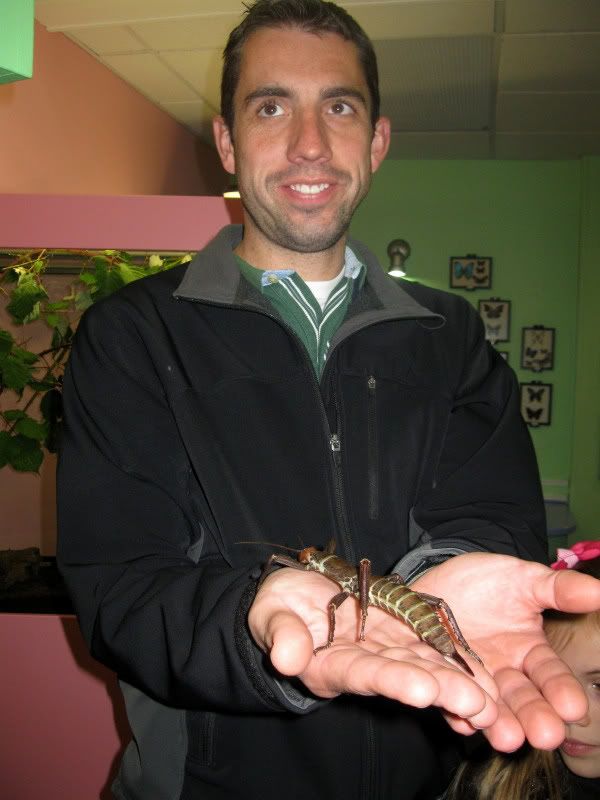 nathan holding.....something. i forget what kind of critter this was. a big one, for sure.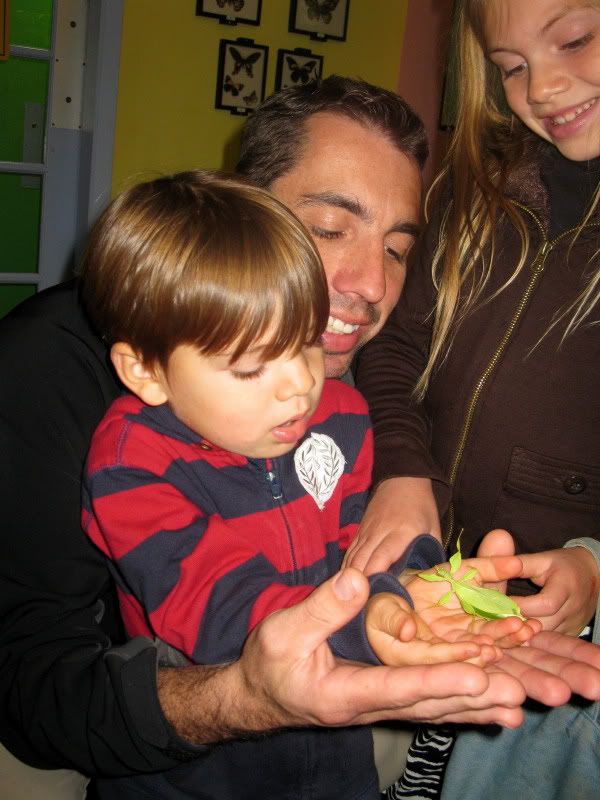 sam holding a leaf bug. bizarre how they looked exactly.like. a leaf.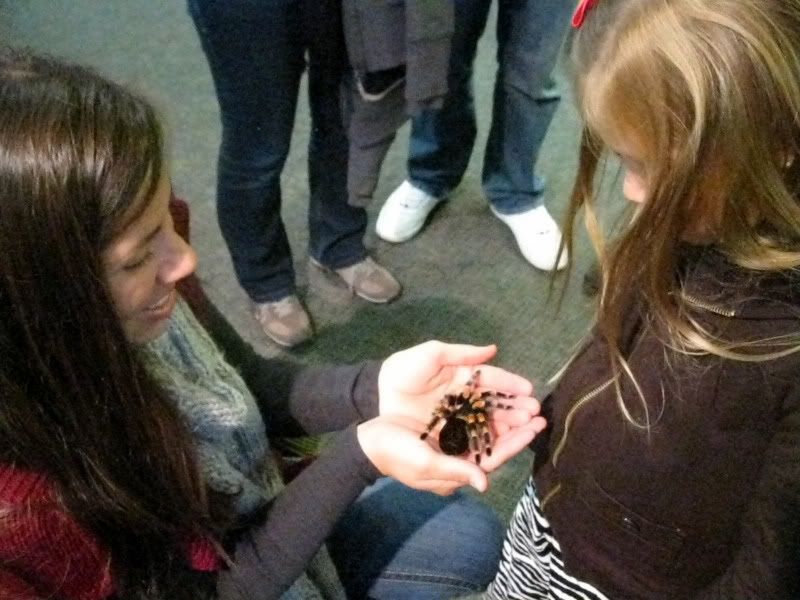 katie and i checking out our fuzzy friend, the tarantula.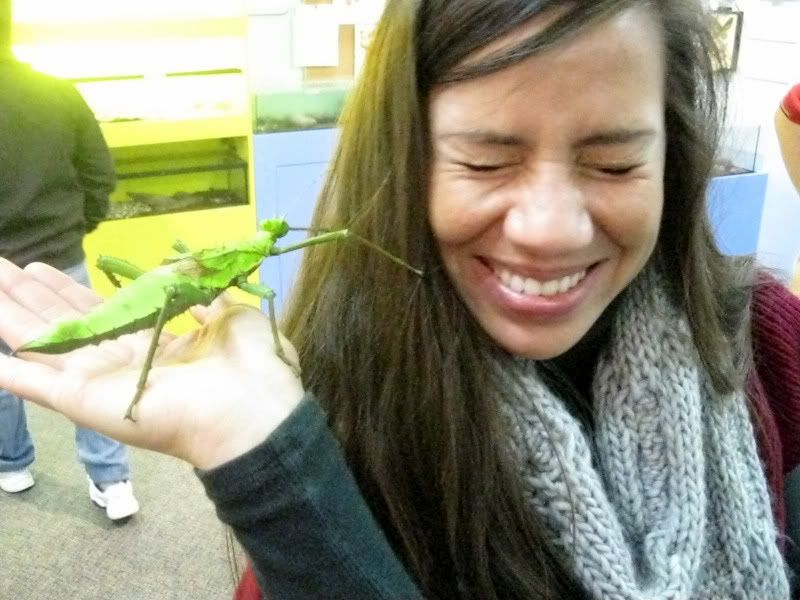 this is nathan's fave pic of the trip i think LOL.....i was holding the critter up to get a pic with him and he started trying to climb on my face and it tickled :D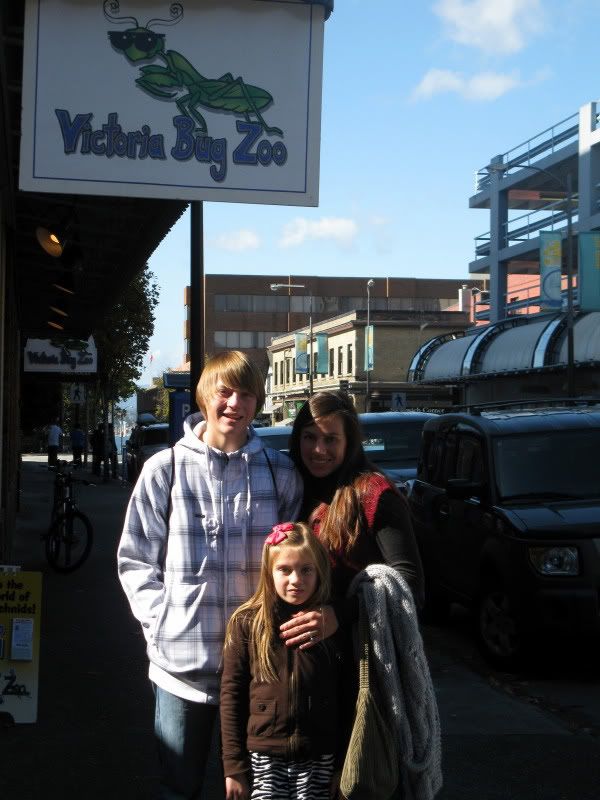 in front of the bug zoo. nathan and sam are missing because halfway through the tour sam said he had to go potty, and nathan said "no way does he have to really go again, i just took him". about a minute later nathan said "i guess he really DID have to go", as sam stood there in a puddle of pee. so he had to run sam back to the hotel to get cleaned up while katie, aus and i finished the tour LOL
after the bug zoo, we went on a tour of
Craigdarroch Castle
. it was SO impressive....the huge stone architecture, the elaborate woodwork inside, the muraled ceilings.....wow.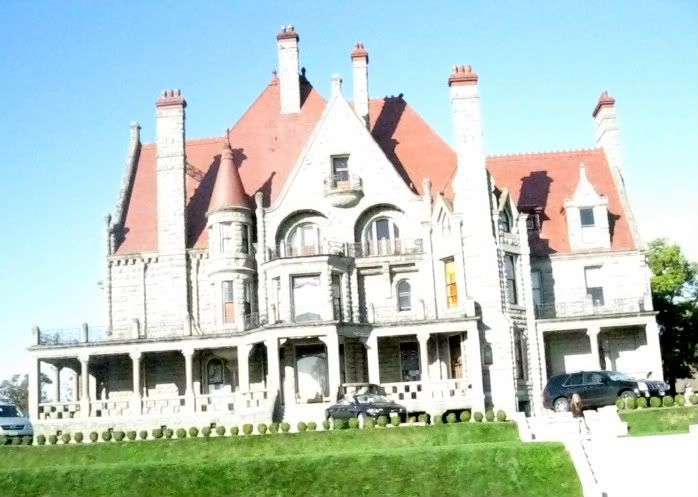 the outside. sorry for the washed out, skewed pic.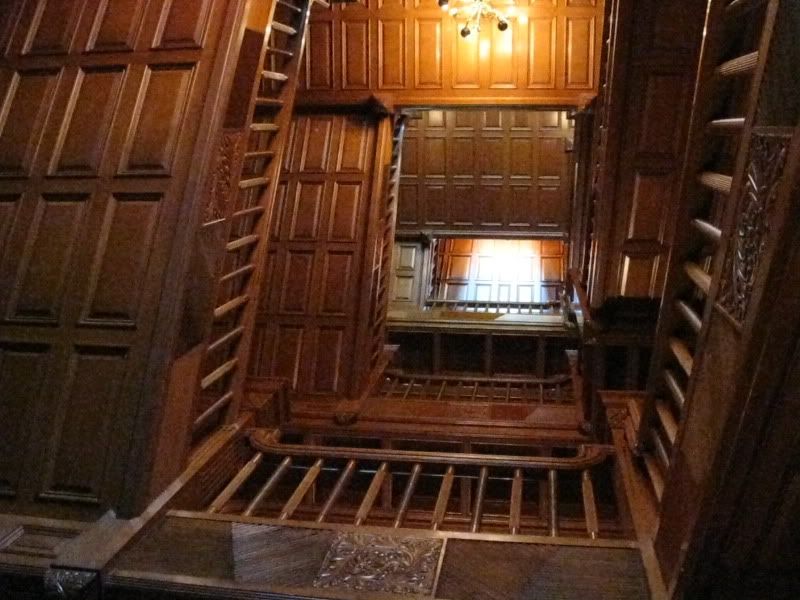 standing in the entryway looking up. 4 stories of beautiful stairs, railings, banisters and ceilings.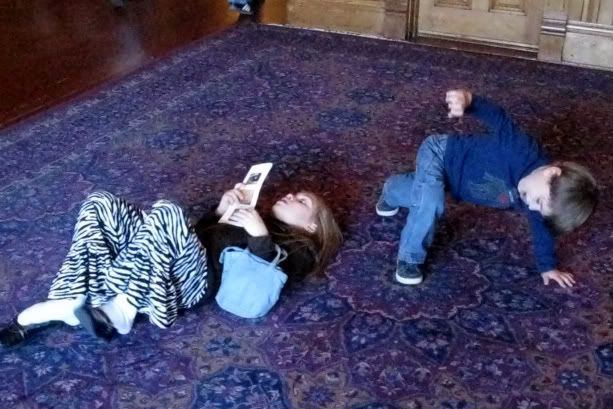 my children on the tour. we received lots of stink-eye from the guides and i'm sure they were breathing a sigh of relief when we left LOL
my mother insisted on this pic. i actually really like it :)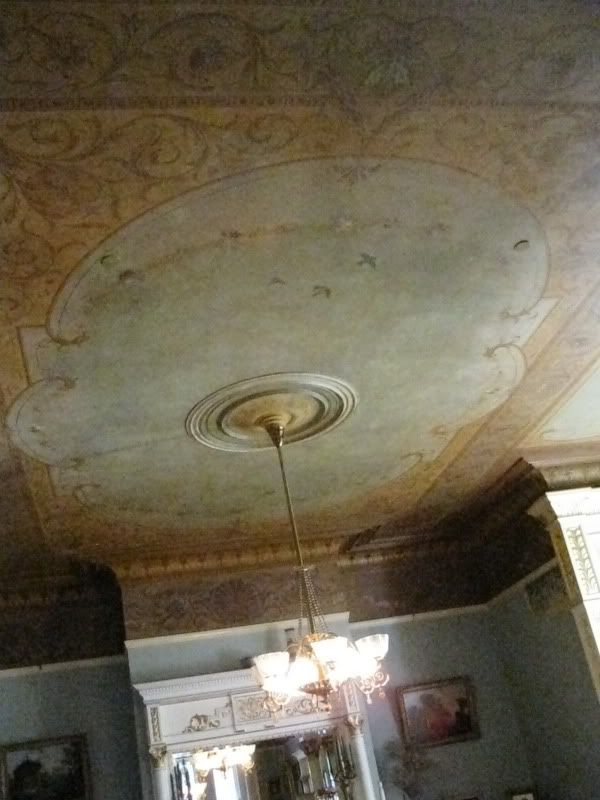 the ceiling in the sitting room.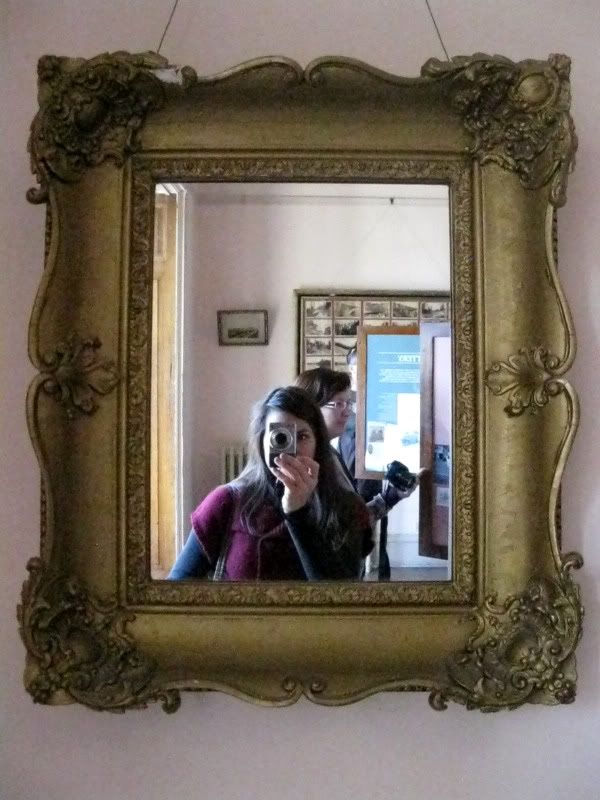 me.
after the castle we went to dinner at spinnakers on dee's recommendation. this was probably my fave meal of the entire trip, and the atmosphere was great. it's a pub-like setting right on the water and the food was fabulous. they brought me out pumpkin cheesecake with a candle for dessert and my fam (yet again!) sang happy birthday to me. for real this time. cause it really WAS my b-day. then we went back to the hotel and some present opening commenced.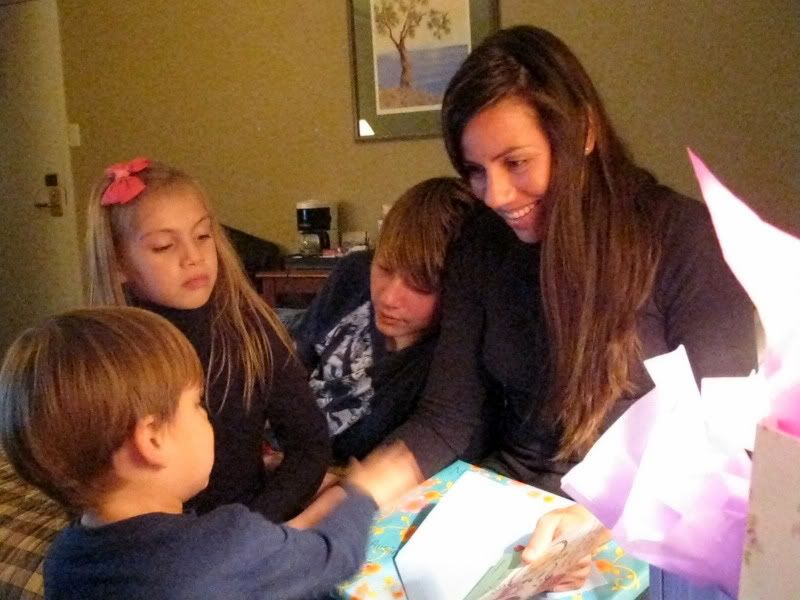 after that my mom offered to watch the kids for a bit so nathan and i could go out for a drink alone. too bad i was soooo tired from the race/being up so early that i needed toothpicks to hold my eyes open by this point. we weren't gone long before we came back to the hotel to turn in for the night.
monday morning dawned clear and sunny. a perfect day for traveling home. the ferry home was gorgeous. what was NOT fabulous was when my daughter started complaining her ear hurt and crying so much that we had to stop at the first drug store when we got off the ferry for some motrin. our first stop upon arriving back in town was to harrison ER. an un-fabulous ending to an otherwise great trip, but at least the ear infection waited til we were almost home. all in all, it was a pretty great trip....and i'm already committed to next years FULL victoria marathon! yikes!
thanks for reading!