and 2 days. that is how long we've been married. wow.
we celebrated by going down to
Crystal
and went skiing. all. by. ourselves. it was *so* nice to get away. it was also nice because our hotel had no phone, tv, or internet, so we had to find ways to occupy ourselves in the evenings. the lobby of our hotel had a nice seating area in front of the fireplace with cushy leather couches and rocking chairs. we sat around and talked and played games; i still can't believe that my husband (the world's worst speller) beat me at scrabble by 1 point. the humiliation. we ate at the Snorting Elk deli the first night and then sat around the bar and listened to the Shed Boys, who played some jammin' acoustic bluegrass music. on saturday we drove into Greenwater and checked out a couple local shops and then ate dinner at Naches Tavern, one of those little local hole-in-the-walls that oozes the character and ambiance that i *heart*. sunday for lunch we ate at the Summit House, which is at the very top of the mountain and has the most *spectacular* views. it was a great (and much-needed!) getaway.
our hotel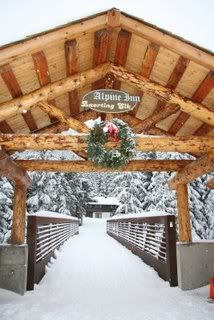 the shed boys