so after my relatively
positive experience
last year, we decided to make family camping an annual event. this year, we decided to hit up sol duc hot springs. we ready?
kids and camping gear? check.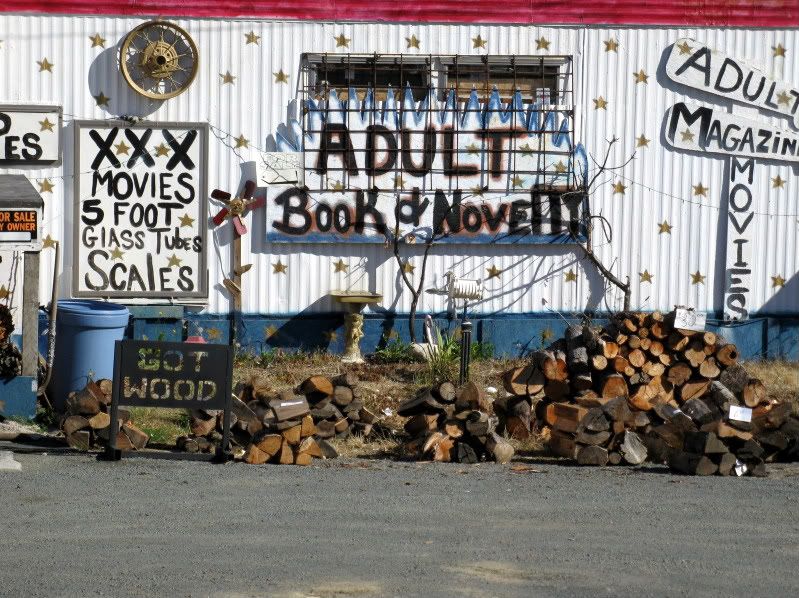 firewood, from the same seedy "adult novelty" shop as last year? check. (i think nathan must secretly like this place. i better check his pockets for a lighter that looks like a naked lady.)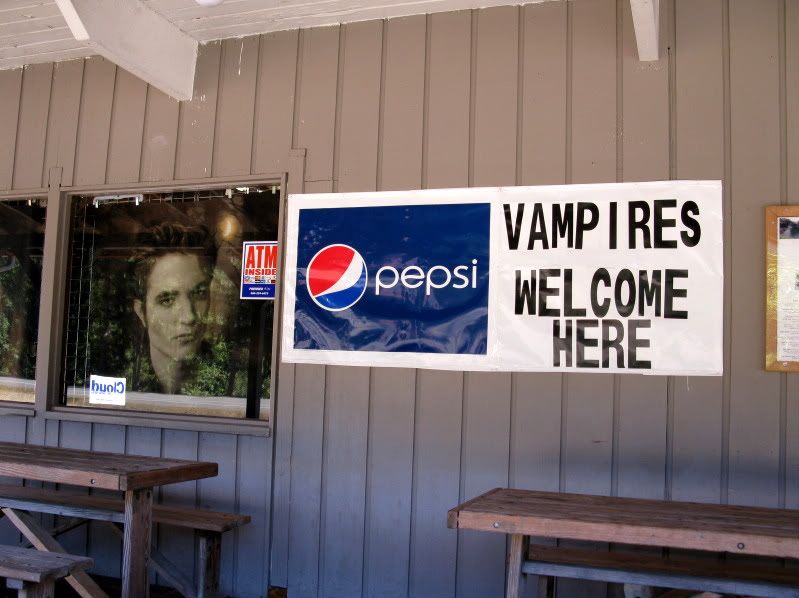 beverages from our favorite little convenience store on the way? check. (thank goodness vampires are welcome, though i didn't run into edward there.)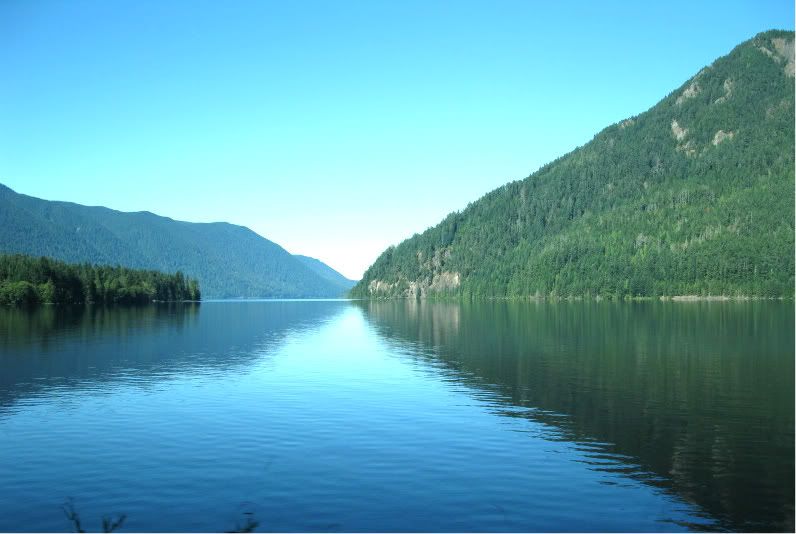 beautiful views of lake crescent on the way up? check.
we arrived at the sol duc campground just after 11:00, which was fortunate for us because that just so happened to be check-out time. being labor day weekend and all, we arrived early to try and score one of these "first-come first-served" sites. we ended up getting one, but by a couple hours later our loop was totally full and the other loop was nearly full. after setting up camp and having some lunch, we headed over to the
hot springs
to check it out.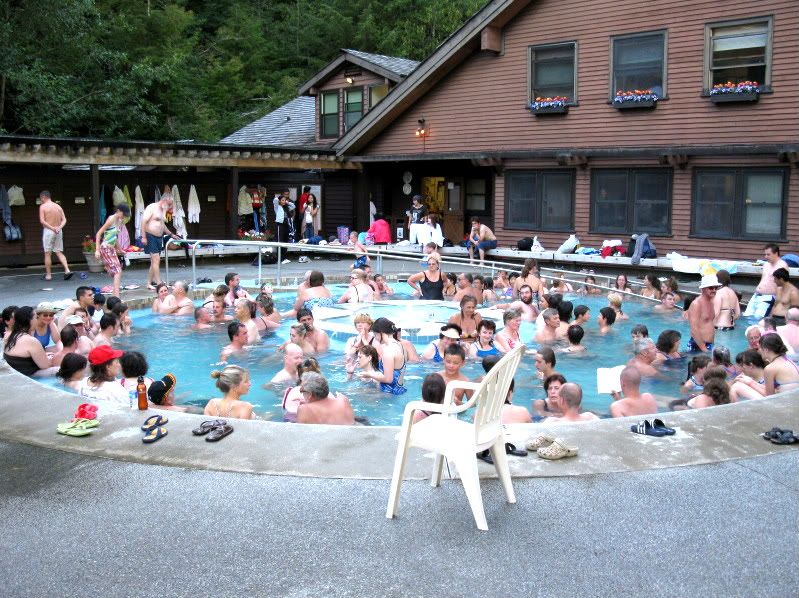 a pic of the main pool. it was quite the popular spot. you had to really hunt to score a seat in this one sometimes, hence the people hanging out in the middle just standing there.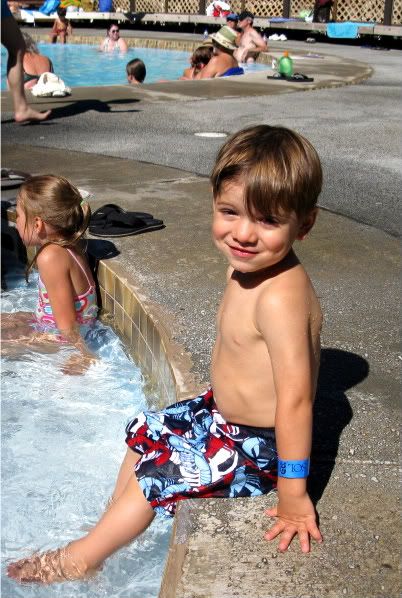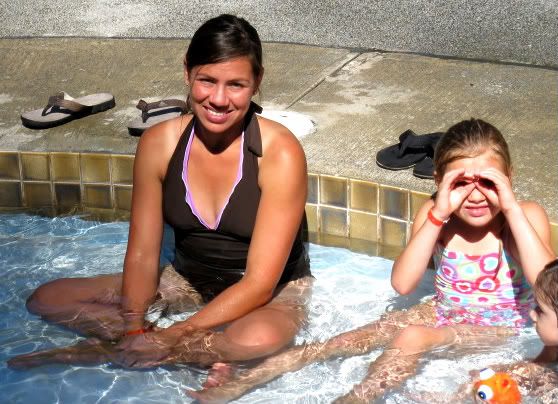 this is where we spent most of our time though....the little hot spring "wading pool", cause sam was too young to go in the other ones.
katie made a little friend that she hung out with for a couple hours.
austin stayed in the big pool most of the time. it was just regular chlorinated water (and it was COLD!) yes i realize you can't see the pool in this pic, i just thought it was a cute one of my boy :)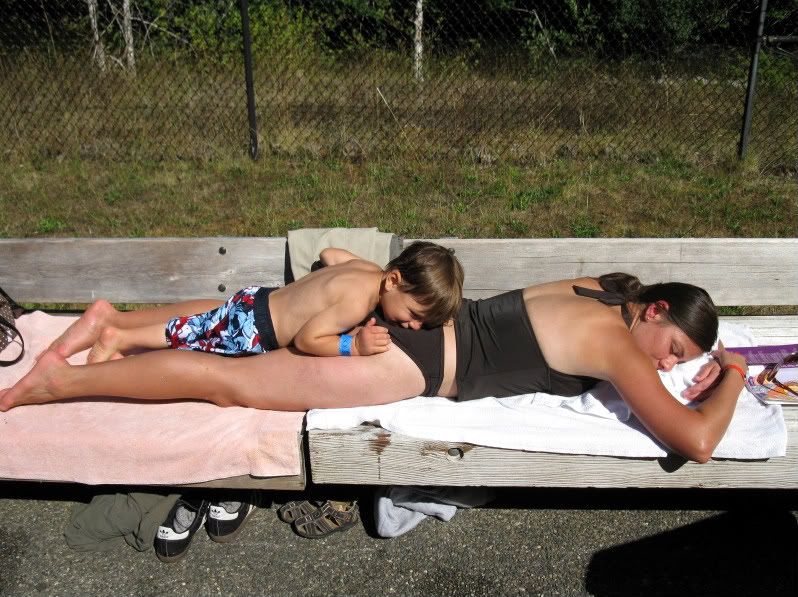 ha! silly mommy, thinking she was going to get to sunbathe uninterrupted!
after the hot springs we went back to camp to cook dinner. nathan realized he forgot his ax so he couldn't chop up the firewood. his plan for tin-foil dinners needed revising, since he didn't think the coals would last long enough to cook the vegetables AND the meat. so we browned the hamburger in a skillet. what was that? we forgot cooking utensils too? ah, well, we'll make do with a plastic spoon. after we cleaned up from dinner we went to a ranger presentation on "olympic national park amphibians", which the kids found thoroughly boring. sam proceeded to demonstrate his boredom by falling asleep, while katie just whined about being bored and kept asking if it was almost over. afterwards we went back to camp to roast marshmallows over our campstove, since our fire was out of order til nathan could figure out how to chop up the wood into smaller pieces. then we turned in for the night.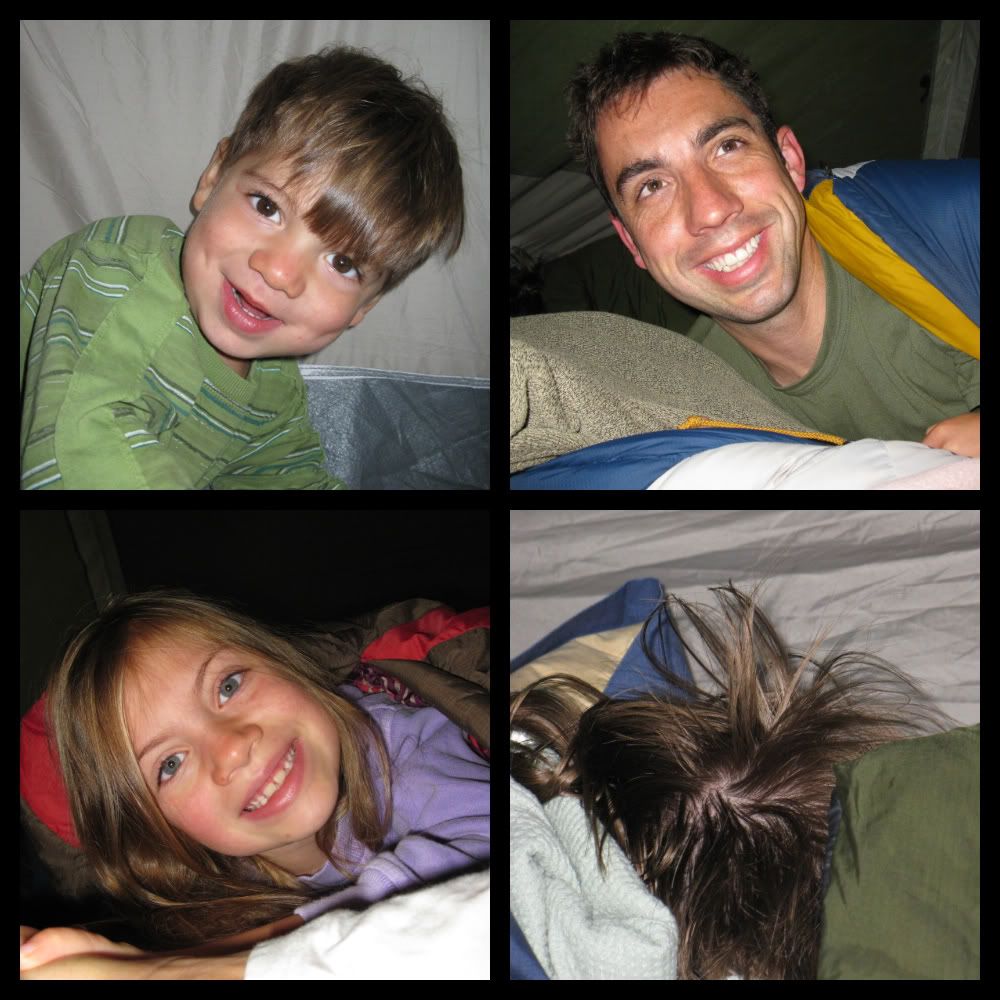 saturday morning: here's a collage of my happy camper faces! well, except for austin. he didn't wanna get up yet. i can't say that i blamed him....i had woken up no less than 27 times during the night, turning over, trying to find a comfy position. i didn't like the camping pad nathan originally had me on; it was a really nice, expensive thermarest pad....that i hated. it is about 95% the width of your body in a sleeping bag.....so if you lay perfectly still, flat-on-your-back centered on it, you're fine. but don't even think about trying to roll over or turn on your side, cause then it feels like you're going to slip off the edge of it. so i traded pads with sam and slept on this ancient blue exercise-mat looking thing....that i could feel every little rock through. gah. i vowed to sleep better the next night, even if i had to go sleep in the back of the truck with the dog.
after breakfast we hiked up to soleduck falls. it was an easy hike, and the falls were absolutely beautiful.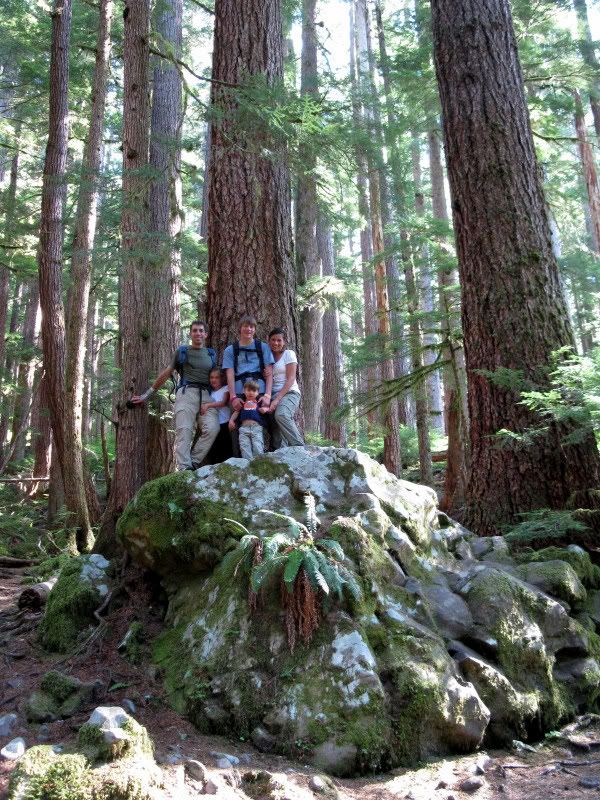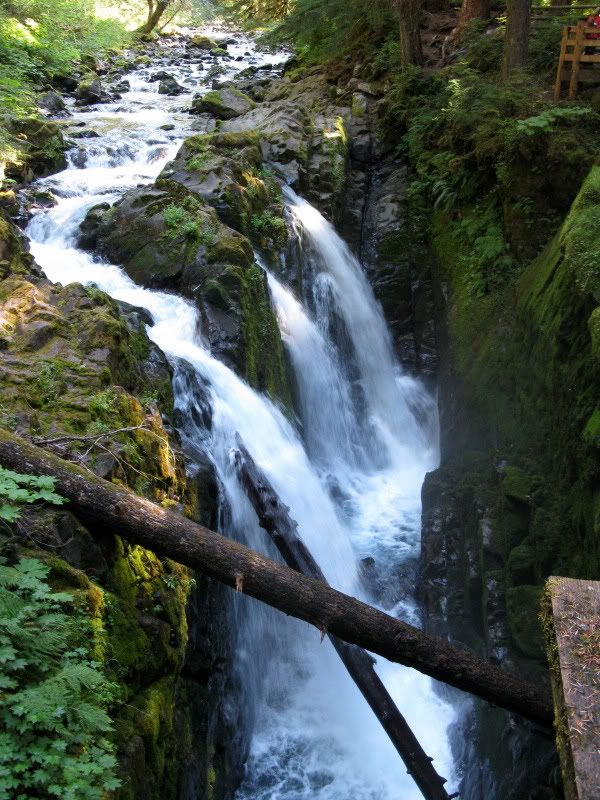 the falls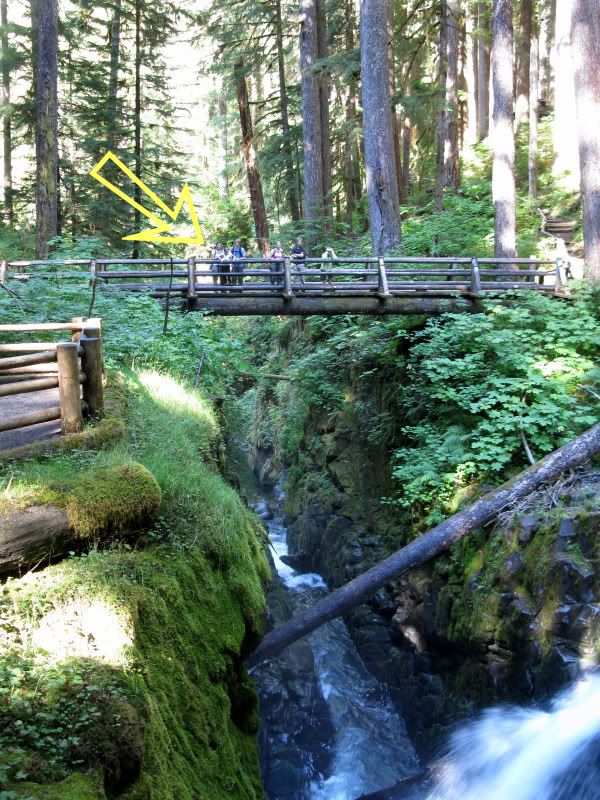 falls in the foreground, us standing on the bridge spanning them.
after we got to the falls and had a snack, i saw there was a 3-mile trail that took you back to the hot springs, so nathan took the little ones back to the trailhead while austin and i hiked up to the springs. we passed lots of beautiful scenery, but every time i tried to stop and admire something or take a picture, austin would start complaining, "hurry up! let's go!" i did manage to get a couple nature shots though.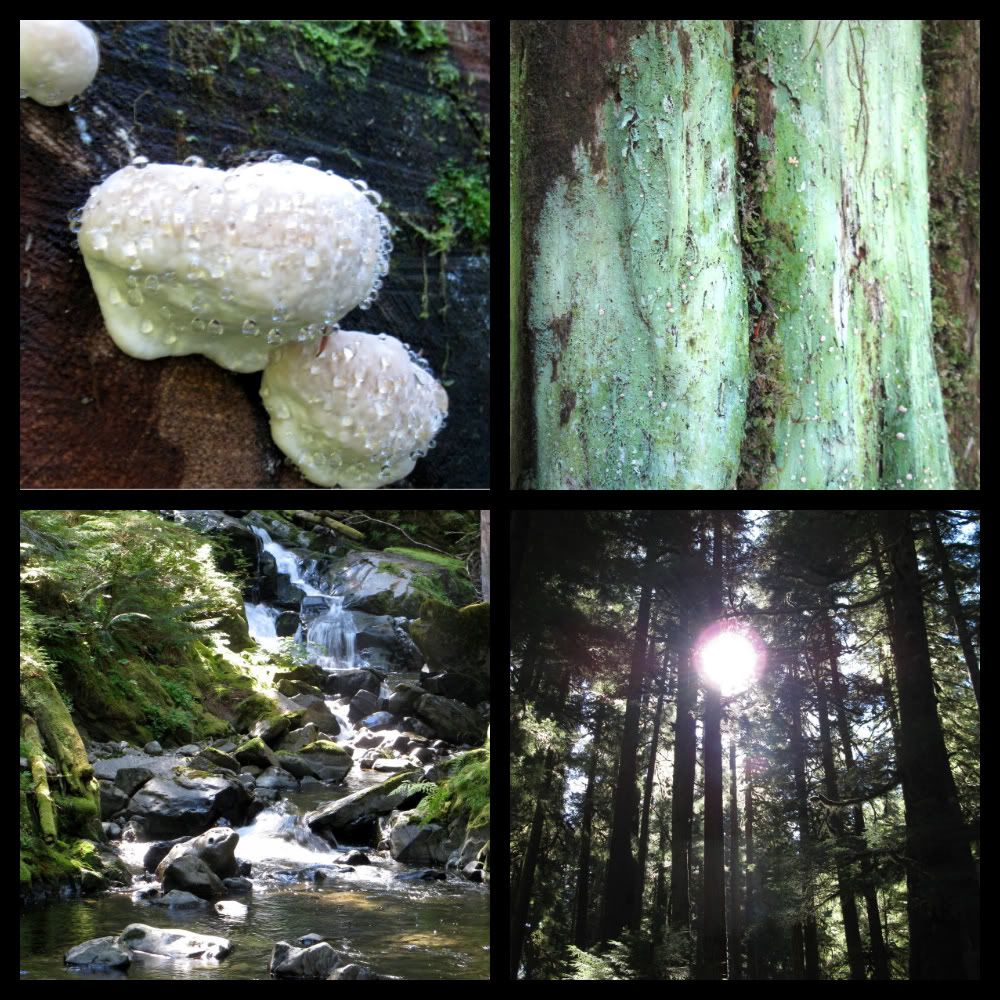 when we got back to the lodge, nathan and the littles were waiting for us. we went back to camp and had lunch, and then spent another afternoon relaxing and soaking in the hot springs. then we headed back for dinner and a roaring campfire. no, nathan never found his ax, he had stashed a duraflame log from home under the seat which was more than enough to get some of those big ol' logs started. we sat around roasting marshmallows and enjoying the fire (and i enjoyed some mini-bottles of wine thanks to the convenience store back at the lodge, thank-you-very-much!)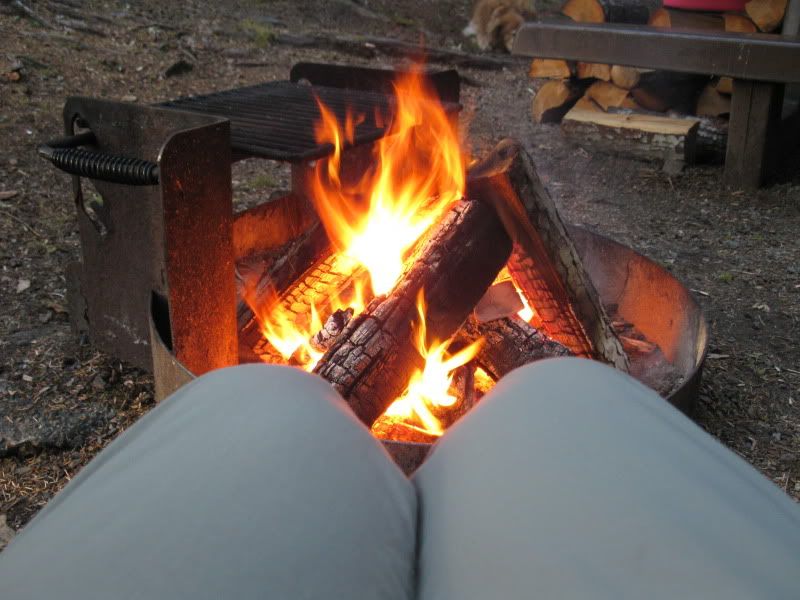 my view of the fire.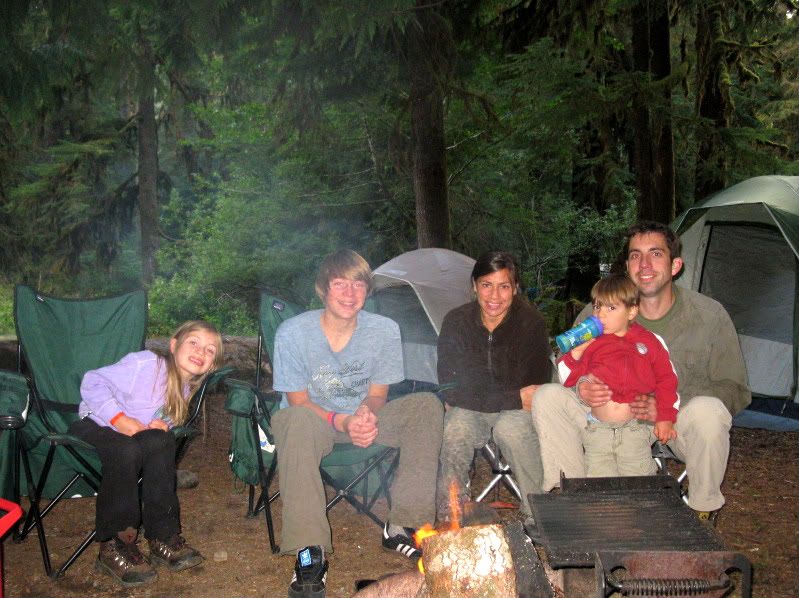 fam campfire pic.
i slept much better the 2nd night cause i stole nathan's pad, which i think had a foam center. whatever it was, it was a heckuva lot comfier than either one i'd tried the night before. we all got a good night's sleep and then woke up sunday morning, packed up, and headed out. it was a lot of fun, has cemented my belief that i really DO like camping (with facilities, mind you) and nathan was already discussing on the way home where to go next summer for our annual camping trip. so i'd say, all in all, it was a success.
and with that, my friends, i will leave you with one of my fave pics of our camping trip. when nature called out in the woods, nathan helping our littlest camper answer the call.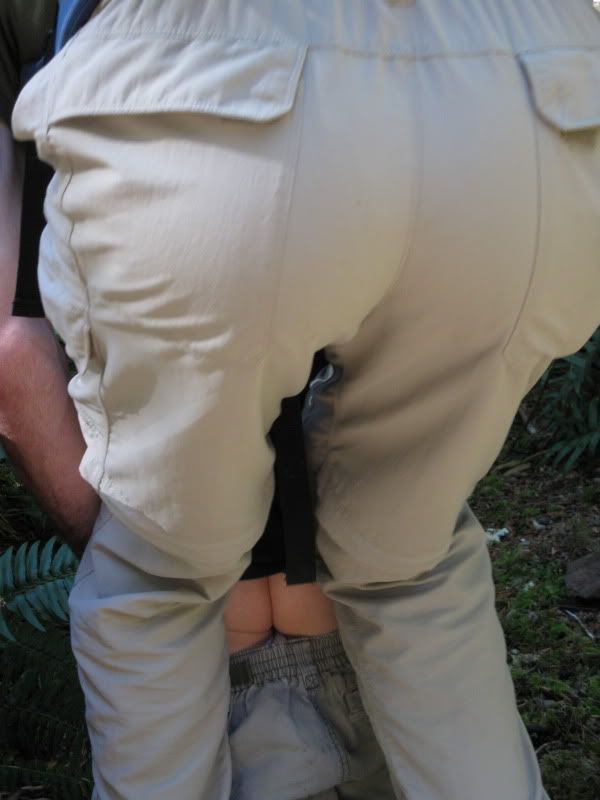 thanks for looking!